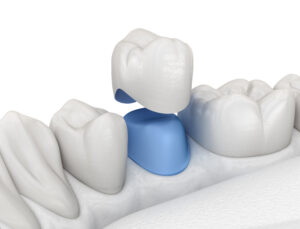 Sometimes, a filling isn't enough to address your child's oral health issues. Instead, restoring the health, beauty, and function of their smiles will rely on the placement of one or more dental crowns. In today's blog, your Round Rock, TX, pediatric dentist talks about using our custom crowns to improve little smiles.
When Children Need a Crown
Kids need a crown to address serious oral health concerns. For example, cases of tooth decay too severe to be treated with a dental filling. We can also use them as the last step in a pulpotomy process, protecting a tooth that has been treated for an infection. Once could be placed to help correct bite balance and chewing function, or to repair teeth that have been chipped or cracked.
Creating and Placing Them
Each one we place has been custom-fitted for your child's smile. To do this, we first numb the area receiving the restoration, and then we gently remove structure from it to make room for the crown. Afterward, we will take a series of detailed digital images of the prepared tooth, which will be used to design and fabricate the finished product. When ready, we will check the fit and make any necessary adjustments, before attaching the restoration with a powerful bonding agent. We have a number of materials we can use, and when possible, we opt for lifelike options like ceramic or zirconia, so they can blend with the smile. In about two visits, we can help improve the health, function, and beauty of your little one's smile.
Protecting Smiles Moving Forward
What can be done to prevent the need for a restoration placement? First, make sure your kids brush and floss daily to remove stray food particles and prevent issues like tooth decay. You can also help by cutting down on their access to sugar and starch in foods and drinks, as these particles feed harmful oral bacteria. Be sure they attend six-month checkup and cleaning visits too, so we can keep an eye on the smile as they grow and treat issues in the earliest stages. A cleaning also helps by removing plaque and tartar before this buildup can weaken enamel and cause cavities to form.
If you have any questions about keeping little smiles healthy from home, or about the lifelike and durable crowns we offer for children, then contact our team today to learn more.
Your Round Rock, TX Dentist's Office Provides Custom Restorations
We can help improve function, health, and appearance with the placement of a dental restoration. If you have questions about how we secure a custom dental restoration, or if you wish to set up an appointment, you can reach Pediatric Dentistry Of Round Rock by calling 512-733-5311.