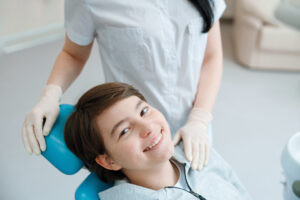 In our last blog, we discussed the use of fillings to treat tooth decay and preserve a tooth. But what if your child has an issue too severe for a filling? In these situations, your Round Rock, TX, pediatric dentist could help with a dental crown, which caps the tooth and can address an array of cosmetic and restorative concerns.
When a Smile Needs a Dental Crown
A dental crown covers the entire visible portion of a tooth, the entire structure above the gum line. Which means we can use them for cases of tooth decay too severe for a filling, or to complete a pulpotomy for an infected tooth. We could repair cracked and chipped teeth, and also help correct chewing function and bite balance as well. Placement could also address misshapen teeth as well, transform the function and beauty of the smile in as little as two visits.
Crafting and Placing a Restoration
When we examine your child's smile and decide that he or she needs to have a dental crown, we will then administer a numbing agent to the area receiving treatment. We also have dental sedation, including nitrous oxide, oral sedation, and IV to help kids enter a deep state of calm and relaxation, with little to no memory of the procedure in many cases. We will have a trained anesthesiologist on hand as well.
Once your child is comfortable, we gently remove structure from the tooth and take detailed measurements and impressions, which we use to design and craft the finished product. We then check the fit and place the crown with a powerful bonding agent. The new restoration can last for years to come.
Safeguarding Your Child's Smile
To help protect your child's smile form needing a restoration, be sure he or she wears a mouthguard when playing sports or martial arts. Also, make sure they take proper care of their smiles to prevent cavities and infections. This includes brushing twice a day for two minutes, and using a fluoride toothpaste when you do. Be sure your child flosses every evening as well, and cuts back on the consumption of foods and drinks high in sugar and starch. These actions help protect the smile, and in many cases, prevent the need for a dental restoration. If you have any questions about these treatments, or if you would like to schedule a checkup and cleaning, then contact our team today.
Your Round Rock, TX Pediatric Dentist Protects Little Smiles
At Pediatric Dentistry Of Round Rock, our team wants to address more severe restorative issues. For more information on repairing and restoring little smiles, or to set up an appointment, contact your Round Rock, TX, pediatric dentist, Dr. Thames, by calling 512-733-5311.