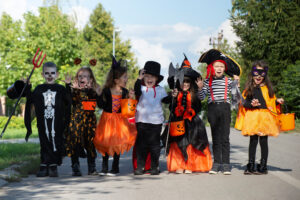 It's a beautiful time of year; the leaves are changing the air is cooling down, and you can watch as many spooky movies as you want with no fear of judgment. Halloween is right around the corner, which means that trick-or-treating is soon to follow. There is no questioning that kids love dressing up and trying to eat as much candy as possible before their sacks and pails are taken away and hidden for the night. As you are likely aware, all the sugar in candy is harmful to teeth, and while we are not advocating for avoiding sweets altogether, there are ways to minimize potential damage to small smiles. In today's blog, your Round Rock, TX, pediatric dentist talks about the ways you can help protect your child's teeth this Halloween.
Minimize Candy Intake And Encourage Good Brushing Habits
As noted, we are not saying to completely take away your kid's candy. Rather, try to limit them to just a few pieces rather than devouring their entire bag. You could orchestrate a trade with them where after consuming a couple of treats, they give you the rest and you give them a toy. This is just one example, but if it fits into your parenting style, it is a good option. Additionally, you should reinforce and remind your kids of proper brushing techniques. This includes brushing twice a day and doing so for at least two minutes each time. It is also good tto encourage them to brush after eating something particularly sticky and sugary. Moreover, be sure they are flossing at least once a day. 
Make Sure They Are Current With Their Checkups 
It is always important to bring your little one in every six months, but it is especially important that they are up to date around this time of year. If they come in before Halloween, we can ensure everything looks good and apply helpful dental sealants if they do not already have them. If after the holiday, something seems to be amiss, be sure to bring them in for an exam and cleaning, so we can identify what's going on. Once we know, we can properly treat the issue. Preventive care like this is the most important thing you can do to help ensure your child has a lifetime of great oral health and understand the helpful habits they need to practice.
Contact Us To Learn More About Keeping Your Child's Teeth Strong And Healthy This Halloween
We know that remaining vigilant about your child's oral health, in addition to your own, is difficult but by practicing preventative care, you can set them up for success. This is especially important around Halloween, but by practicing the aforementioned techniques, you should be in good shape. To learn more or to schedule an appointment, you can reach out to your Round Rock, TX, dentist, Dr. Thames, by calling 512-733-5311.