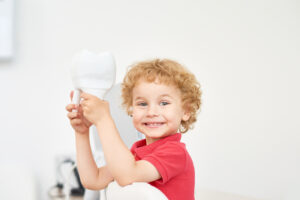 When we offer care for children of all ages, we want to make sure they receive quality treatment and their best possible smiles. To do so, we employ advanced technology as part of the diagnostic and treatment process. In today's blog, your Round Rock, TX, pediatric dentist talks about the advanced systems we employ!
Checkups and Cleanings
Starting at around age two, checkups and cleanings should happen every six months. These visits are a chance for our team to monitor the smile and identify areas of concern in the earliest stages. As part of this process, we will use digital x-rays. These allow us to see what's happening beneath the gums, and to make sure baby teeth are erupting/becoming lost at the right times, and that permanent teeth arrive without complication. We can also assess the presence of tooth decay and infection. The technology uses 90% less radiation, and doesn't require time to develop images in harsh chemicals. Instead, they're available instantly chairside. For detailed images of the surfaces of the teeth and gums, we also use advanced intraoral camera technology too.
Our Advanced Treatment Options
Did you know that we use dental lasers too? Using a concentrated beam of light specially calibrated to treat little smiles, we can address a variety of oral health issues, from tooth decay and gingivitis to cold and canker sores. The technology often replaces the need for scalpels and sutures for many procedures, and doesn't require the use of anesthesia at all. Treatment limits the risk of bleeding, swelling, and infection, and kids often return to normal activities the next day after a brief rest. We're proud to offer an option that helps kids receive quality care with accuracy and precision, while also keeping them comfortable throughout.
Use Your Benefits
The end of the year will be here before you know it, and once November is here the holiday season will definitely keep your family busy. Which is why we recommend a checkup and cleaning for your child now, so we can remove plaque and also address any concerns we find before your schedule is too hectic and more importantly, before your 2022 dental insurance benefits or health savings funds expire at the end of December. If you have any questions, then give our team a call today to learn more.
Talk To Your Round Rock, TX Dentist About Children's Dental Care
With a caring approach and advanced technology, we can help little smiles stay strong, bright, and functional. If you would like to learn more about the technologies and procedures we use to treat your child's smile, or if you want to book an appointment, contact your Round Rock, TX, dentist, Dr. Thames, by calling 512-733-5311.