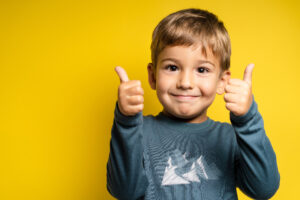 Our team provides a comprehensive array of treatment options for kids of all ages, from babies and toddlers to older children and teens. To ensure they enjoy their time in the office and have a comfortable experience, we often employ advanced technologies. In today's blog, your Round Rock, TX, pediatric dentist looks at the technology we use, and how this helps them receive quality treatment.
Digital X-Rays
To see what is happening beneath the gums and in the oral structures, we could take x-rays. But instead of using uncomfortable bitewings and developing images in a harsh chemical for long periods, we can take a digital approach. This enables us to gather the images quickly and comfortably. The images will be available chairside instantly, so we can walk you and your children through the diagnostic process. This also uses 90% less radiation than traditional ones. This helps identify the positions of the teeth, so we make sure baby teeth fall out on schedule and that the permanent ones erupt properly. We also look for positions of wisdom teeth for our patients entering their teen years, removing the teeth before they threaten overall oral health.
Intraoral Cameras
We also want to see the surfaces of the teeth and gums too. With an intraoral camera, we can take detailed images to diagnose the presence of cavities and infection in the earliest stages of demineralization, as well as gingivitis and gum disease. We also pinpoint the presence of wear and friction that could indicate teeth grinding and other oral health threats. Taking these images is a quick and comforted process, and allows us to plan treatment with precision and accuracy.
Laser Dentistry
We're very proud to offer soft tissue dental laser treatment. Dental lasers allow us to target areas that need treatment with precision, preventing damage to healthy tissues. We can treat issues like gingivitis, and also remove plaque and tartar buildup from the teeth. Treatment rarely requires the use of anesthesia, and there is little to no risk of bleeding and infection afterward. This allows us to address an array of general and restorative treatment options.
If you have any questions about these technologies, or if you would like to schedule a checkup and cleaning visit for your child, then contact our team today. We want to help your children enjoy good oral health and bright smiles for years to come!
Make an Appointment With Your Round Rock, TX, Pediatric Dentist
We would like to help kids of all ages enjoy good oral health with the latest advances in technology. If you would like to learn more about helping your children enjoy good oral health, then contact your Round Rock, TX, pediatric dentist, Dr. Thames, by calling 512-733-5311.