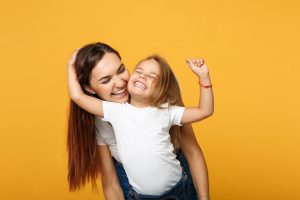 Teeth stains can be a source of embarrassment, and could also develop due to serious oral health issues too. Fortunately, your Round Rock, TX, pediatric dentist knows how to remove discoloration for little smiles, and could even offer preventive care to keep smiles bright and healthy.
The Causes of Discoloration
The stains on your child's teeth could develop for a number of different reasons. For example, sugary foods and drinks could promote plaque buildup, making discoloration more visible. The buildup also increases the risk of tooth decay and gingivitis. Drinks with dark pigments, such as soda and tea, could be a factor as well. Lack of proper brushing and flossing is also a common cause, along with excessive fluoride exposure, known as fluorosis. Sometimes, the issue is related to an underlying oral health issue, such as tooth decay, nerve damage, infection, or a damaged tooth. Certain medical conditions could cause visible discoloration too.
Teeth Whitening Treatment
When we remove stains, we use professional systems, not the options you find in a store. Which means the results are longer-lasting and more dramatic. Treatment helps improve overall smile esthetics, and help your children feel more confident when they smile. While we may whiten teeth with a cosmetic treatment, we could also use restorative procedures too. If a cavity is responsible, we could employ a filling to provide a lifelike repair. For teeth with nerve damage or breakage, we could provide crowns to create a natural-looking solution as well. Dental bonding, which uses the same composite resin as our fillings, could provide an esthetically-pleasing solution to permanent teeth stains, the kind that may not respond to most teeth whitening procedures.
Keeping Little Smiles Bright and Healthy
Keeping little smiles bright is also possible with good oral hygiene habits. These same steps could be crucial for avoiding tooth decay and infected teeth too! For example, make sure your little one brushes twice a day and flosses before bed. You may need to assist your younger children, and monitor your older ones to ensure they're doing so properly. We suggest a visit every six months too to have teeth examined and cleaned thoroughly. Cutting back on sugary foods and drinks is also beneficial too! If you have any questions about how we improve the beauty of little smiles, or about avoiding issues like discoloration or cavities, then contact our team today to learn more.
Pediatric Dentistry Of Round Rock Offers Cosmetic Dentistry
Pediatric Dentistry Of Round Rock wants to help children of all ages enjoy bright, beautiful, and yes, healthy smiles. To find out more about our approach to cosmetic dental care, contact your Round Rock, TX, pediatric dentist, Dr. Thames, by calling 512-733-5311.