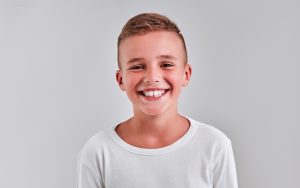 Stains could form on our smiles for a number of reasons, from poor oral hygiene to other factors. In today's blog, your Round Rock, TX, pediatric dentist will explain the causes of discoloration in little smiles, and when you should consider bringing your child in for a professional teeth whitening treatment.
The Causes of Teeth Stains
Often, stains form on little smiles due to poor oral hygiene habits and the foods and drinks your child consumes. For example, lack of proper brushing and flossing enables plaque and tartar to increase, and make stains more visible as a result. Likewise, foods and drinks high in sugar could promote plaque buildup. If a drink has dark pigments, such as soda, tea, or fruit juice, this could mean visible discoloration as well. However, some issues could be unrelated to the meals and beverages children consume. Other causes include injury to the tooth, excessive fluoride, cavities, or medical conditions that impact the development of the teeth.
When to Seek Treatment
When your child has stained teeth, let us know. Before administering treatment, we want to make sure every permanent tooth has already erupted and the outer enamel has properly calcified as well. If whitening treatment is administered before these criteria are met, the result could be tooth sensitivity and mild discomfort. The treatment we recommend to brighten or masking stains will depend on the child's age and the cause/severity of the stains themselves.
Keeping Teeth Bright with Better Oral Hygiene
Following treatment, what steps could be taken to keep teeth bright? First, encourage your child to drink more water in lieu of sodas or drinks that lead to discoloration or cavities. Recommend healthier snack choices too, such as fresh fruit, veggies, whole grain crackers, sugar-free gum, nuts, or cheeses or low-fat yogurts.
Children also need to brush and floss daily, as this helps remove food particles to reduce the severity of plaque and keep smiles brighter. Every six months, please bring your child in for a cleaning too. The dental cleaning involves removing all plaque and tartar and polishing the smile. The result is a lowered risk of cavities and gingivitis, as well as a brighter smile. If your little one has unsightly stains and you would like to discuss possible solutions, then please schedule a consultation. Our team knows how to help remove the health of little smiles, and ensure our young patients always enjoy their experience at the office.
Pediatric Dentistry of Round Rock Offers Brighter Smiles
Pediatric Dentistry of Round Rock is ready to help your kids enjoy a brighter smile with professional treatment. If you want to learn more about our cosmetic treatment options, then start by contacting the Pediatric Dentistry of Round Rock in Round Rock, TX at 512-733-5311.