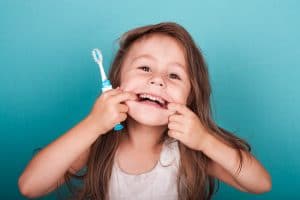 When your child injures a tooth, this could not only mean immediate discomfort, but long-term oral health issues unless addressed. To offer repair that looks natural, and can be completed in one sitting, your Round Rock, TX, pediatric dentist may suggest bonding and contouring. In today's blog, we're going to explain how we repair smiles with these cosmetic treatments!
The Risks of Chipped Teeth
Children are active, so a chipped or cracked tooth could happen at any time. However, even if the damage appears very minor, there is a chance that the inner dentin could still be exposed to bacteria, a complication linked to a greater risk of cavities and infection. When your child damages a tooth, you can stem any bleeding with a cloth, and use a cold compress or ice pack against the side of the face to control swelling. An age-appropriate over-the-counter pain reliever could help as well. Then give us a call to schedule an emergency visit. We will examine your little one to see if repair is necessary!
The Bonding and Contouring Process
If we don find that a tooth needs to be fixed, we could accomplish this in one visit with dental bonding or contouring. The bonding process employs the same metal-free composite resin we use in our fillings. We clean the tooth and apply the material in several layers. The composite resin is tinted to blend with the rest of the tooth structure. We then shape the tooth as we cure the composite resin under a light, before polishing it for a more attractive appearance. In addition to remaining minor damage, we could help reshape teeth, close gaps between them, and mask permanent teeth stains, such as those caused by injury or fluorosis.
With courting, we help improve bite balance and esthetic by gently removing outer structure through sanding and buffing the tooth. We could correct minor chips, reshape malformed or overly large teeth, improve how teeth fit together, and smooth out rough patches, pits, or grooves in the outer surfaces.
Protecting Smiles
We suggest wearing a mouthguard when playing sports to help prevent injuries, and our team can even help with the creation of a custom-made guard, one with a better fit and improved protection when compared to store-bought boil-and-bite options. If you have any questions, or if you would like to schedule a visit for a checkup, then please contact our team today!
Pediatric Dentistry of Round Rock Repairs a Child's Smile
Pediatric Dentistry of Round Rock wants to protect smiles from oral health concerns, and also ensure a lifelike appearance. If you want to learn more about how we offer lifelike repair, then start by contacting the Pediatric Dentistry of Round Rock in Round Rock, TX at 512-733-5311.