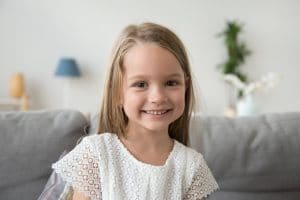 In our last blog, we discussed why children may need a filling to treat tooth decay. But what if they have a severe cases of tooth decay, or a tooth that is infected or chipped? To restore the tooth and protect them from painful complications, your Round Rock, TX, pediatric dentist may recommend as dental crown.
Possible Signs of Trouble
The restoration covers the entire visible portion of your child's tooth, everything above the gum line essentially. When a tooth becomes chipped or cracked, or possibly develops a case of tooth decay too severe for a filling, or a full infection, then we may prescribe a crown. Along with repairing a tooth, placement could help preserve the balance of the bite, and protect surrounding teeth as well. By repairing teeth, we prevent complications that could require the extraction of a tooth, ensuring baby teeth continue to fall out on schedule and that permanent teeth erupt on schedule, reducing the risk of misalignment and ensuring beautiful, happy smiles for years to come!
Creating and Placing a Crown
Each one we create for our patients must be custom-made. We will answer any questions or concerns your little ones have, and also administer a local anesthetic to ensure a comfortable experience. We also have sedation options that are safe for children, such as nitrous oxide.
Our team removes structure from the tooth, and then take detailed images and impressions too. Using this information, we design and craft the final product in a dental lab setting. When your child returns, we place the finished product with a powerful bonding agent. We may create them from metal, but also have zirconia, which is not only durable, but can be tinted with blend with the rest of the smile.
Protecting Little Smiles
Our team also wants to help children avoid issues liked decay and infection, safeguarding their smiles. We suggest an exam and cleaning every six months, so we can keep an eye on little smiles and also remove all plaque and tartar. To reduce the amount of plaque that accumulates in between these visits, we suggest making sure your children brush and floss daily. With fluoride treatments and dental sealants, we can also help lower the risk of cavities and infection. Fluoride strengthens the outer enamel, and sealants prevent food from becoming trapped between the rear teeth. If you have any questions about our pediatric dental treatments, then contact our team today!
Pediatric Dentistry of Round Rock Offers Lifelike Restorations
Pediatric Dentistry of Round Rock can create a lifelike restoration to restore little smiles to optimal health, function, and beauty. You can make an appointment for your child's dental crown by contacting the Pediatric Dentistry of Round Rock in Round Rock, TX at 512-733-5311.