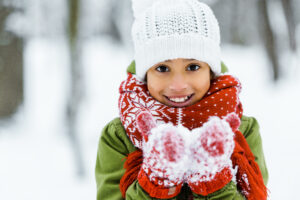 When your child has a toothache due to a cavity, we can bring relief with a filling. But if the decay is deep or the tooth has become infected, then we could offer a more substantial treatment to bring relief. In today's blog, your Round Rock, TX, pediatric dentist talks about the pulpotomy procedure.
The Causes of an Infection
How does a child end up with an infected tooth? At the center of every tooth is a bundle of living tissues known as the pulp, which keeps the tooth functioning. However, deep decay from an untreated cavity or a major injury could expose the pulp to bacteria. The infection then eventually kills the pulp, so the tooth needs to be treated to prevent the spread of infection to other parts of the smile. Which means when symptoms arise, you should bring your child in for treatment right away to protect the stability of their smile.
Warning Signs and Complications
Kids may begin to notice tooth sensitivity when they eat or drink something, or pain when they bite down. A persistent toothache could be a factor as well. Others report swelling near the aching tooth, or even a discharge from it, along with jaw pain and headaches. When your child reports pain in a tooth, bring him or her in for a checkup. We will carefully examine the smile with digital x-rays to identify the position and extent of the infection. Treatment can then be planned before the infection causes worsening pain or even the loss of the tooth. Premature loss of a tooth, even a baby one, could mean complications like dental misalignment.
The Pulpotomy Procedure
Our team will provide a conservative root canal alternative known as a pulpotomy. With this procedure, we numb the tooth and offer sedation to ensure your child is comfortable as we open the tooth to remove portions of the pulp from within. We then add a special medicated filling material. For some, that completes the procedure. For others, we may need to cap the tooth with a crown, one custom-made for their smile. We could use stainless steel for the side and rear teeth, or a more lifelike ceramic or zirconia material for the front facing ones. If you have any questions about how we treat an infected tooth, or about the pulpotomy procedure in general, then contact our team today to learn more. There is still time to see us before the year comes to a close and your dental benefits for 2022 expire!
Talk To Your Round Rock, TX Pediatric Dentist About Endodontic Treatment
We want to help your children avoid the discomfort and complications of an untreated dental infection. To learn more or to schedule an appointment, please contact your Round Rock, TX, pediatric dentist, Dr. Thames, by calling 512-733-5311.