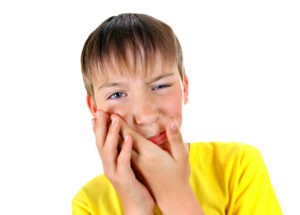 When a child comes to us with an infected tooth or an abscessed one, we know treatment is crucial for avoiding major discomfort or even premature tooth loss. To protect the smile and prevent discomfort from spreading, your Round Rock, TX, pediatric dentist can offer a root canal alternative known as a pulpotomy.
How Infection Impacts a Child's Smile
A child could develop an infection when tooth decay, caused by poor oral health habits or an injury, continues to spread without treatment. The decay eventually reaches the pulp, the tooth's nerve center, which enables an infection or abscess to develop. Without treatment, the infection could use the premature loss of a tooth, leaving a gap in the smile and increased the risk of misalignment. Let us know if your child complains about pain when eating, a periodontal toothache, or swelling near the tooth. This could mean deep decay or an infection that needs treatment right away.
The Root Canal Treatment
If we discover an infected tooth, we could offer a conservative root canal alternative known as a pulpotomy. Our team will administer a local anesthetic and sedation to help your child remain calm and relaxed, with little to no memory of the procedure at all. We open the tooth to remove the infected portions of the tissues, and add a medicated filling material. We then cap the tooth with a dental crown. This helps ensure the tooth is protected, and preserves the smile. The crown can also be made from materials that help it blend with the smile, although we may still recommend metal options for side and rear teeth, which ensures greater bite forces and pressure.
Safeguarding Smiles
Going forward, you can help your child avoid future cases of cavities and infection. They should brush their teeth twice a day for two minutes, once in the morning and again at night. Each session should take about two minutes, and kids three and younger should use a rice sized amount of fluoride toothpaste, or a pea sized amount for kids over the age of three. Flossing before bed is essential too, and children should see us for a checkup and cleaning every six months as well. Finally, try to cut back on how much sugar and starch they consume.
If you have any questions about treating infected teeth, or if your child needs a checkup, then give us a call today.
Your Round Rock, TX Pediatric Dentist Helps Keep Little Smiles Strong
At Pediatric Dentistry Of Round Rock, we're ready to treat minor and severe issues with a tooth's health and function. For more information on safeguarding smiles against infected teeth and abscessed ones, or to set up an appointment, contact your Round Rock, TX, pediatric dentist, Dr. Thames, by calling 512-733-5311.