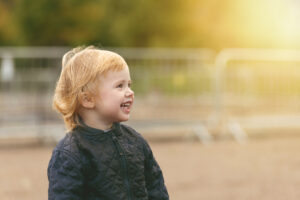 We've looked at when a child's smile needs to receive a dental filling to treat tooth decay. But what if your child has advanced decay, damaged teeth, or issues that upset bite balance? To improve smile beauty and bite function, we could help with a dental crown. In today's blog, your Round Rock, TX, pediatric dentist talks about dental crowns.
The Need for a Dental Restoration
A dental crown covers the visible portion of a tooth, which gives it the ability to address an array of cosmetic and restorative concerns. For example, we can use them to repair cracked, chipped, or severely broken teeth before advanced decay or infection can occur. Our team can also use them to treat major decay, and to complete a pulpotomy for infected teeth. Placement can address misshapen teeth, and improve chewing function and bite balance as well.
Creating and Placing a Restoration
Our team will first carefully examine your child's smile to assess the need for one. If we find one is necessary, we will numb the tooth and then gently remove the outer structure from it to make room for the crown. Once we do, we will take detailed images of it to create an impression. In a dental lab setting, we use the impression to create the restoration, either from durable stainless steel, or more lifelike porcelain materials. We check the fit of the final product and then affix the crown with powerful bonding material. With proper care and attention, this could stay in place for years to come.
Safeguarding Smiles
The same steps that help preserve a crown by protecting the tooth it's attached to will also help guide your natural teeth as well. For example, kids need to start and end each day by brushing for about two minutes, using an age-appropriate toothbrush and a fluoride toothpaste. Kids three and younger should use a rice sized amount of toothpaste, while kids three and older need a pea sized amount. Kids also need to floss every evening too! Try to limit the access to sugary and starchy foods and drinks as well.
If you have any questions about how to treat little smiles with restorations, or if you want to schedule a visit before the holiday season becomes too hectic, then contact our team today. You still have a chance to use your 2022 dental benefits before they're gone, allowing your children to greet 2023 with stunning and healthy smiles!
Talk To Your Round Rock, TX Pediatric Dentist About Custom Restorations
Our team wants to help your children maintain strong and beautiful smiles for years to come. To learn more or to schedule an appointment, please contact your Round Rock, TX, pediatric dentist, Dr. Thames, by calling 512-733-5311.