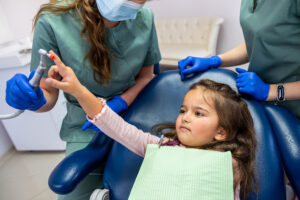 When children have a tooth that is damaged or one with severe cases of decay, we may need more than a filling. To properly restore the smile and prevent complications, we can offer a custom dental crown. In today's blog, your Round Rock, TX, pediatric dentist talks about our custom restorations for kids.
The Dangers of Decay and Damaged Teeth
When a cavity reaches a more advanced stage, or when a tooth becomes infected, treatment is crucial to prevent the loss of the tooth. Afterall, premature tooth loss not only leaves a gap behind, but this could complicate the eruption of permanent teeth and lead to misalignment. In addition, discomfort will worsen with time too! With a crown, we can address these concerns. We can use them to treat advanced decay, or to complete a pulpotomy procedure for an infected tooth. Our team can also use them to help improve overall bite balance and chewing function for children as well. Don't let their oral health suffer, talk to our team about possible treatments when they complain about aching teeth!
Creating Dental Crowns
To begin, we will talk to your child about the treatment and the tools we will use. Our team will take time to answer their questions so they feel relaxed and comfortable. We will administer a local anesthetic and for kids with anxiety, we can discuss dental sedation too. Once your child is comfortable, we will remove structure from the outside of the tooth in question to make room for the restoration. Next, we take detailed digital images to help us design and craft your child's completed crown. When the restoration is ready, we will attach it to the tooth. We may use stainless steel for the rear teeth, which endure greater bite forces and pressure. But when possible, we try to opt for ceramic, so the restoration looks natural and blends with the smile.
Placement and Maintenance
When the finished product is ready, we will attach the crown with a powerful bonding agent. With proper care and attention, this could stay in place for years to come and protect the tooth from further complications. To keep them strong and bright, and also safeguard the rest of the smile, your kids need to brush and floss daily and also cut back on their consumption of sugary foods and drinks. We also recommend seeing us for checkups and cleanings every six months. If you have any questions, then contact our team today to learn more.
Your Round Rock, TX Dentist Offers Dental Restorations
Our team wants to help kids enjoy good oral health and more attractive smiles. To find out more about how we restore the health, beauty, and function of your smile, contact your Round Rock, TX, pediatric dentist, Dr. Thames, by calling 512-733-5311.