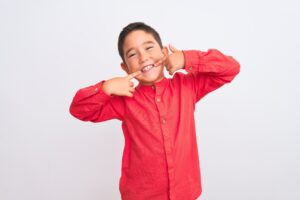 When a tooth becomes infected, this could lead to serious trouble, from painful symptoms to the premature loss of a tooth. To offer relief from pain and to prevent further complications, our team can offer a root canal alternative. In today's blog, your Round Rock, TX, pediatric dentist talks about the pulpotomy procedure.
Infected Teeth and Tooth Loss
Let's talk about the risks of infected teeth. When a tooth develops a painful infection, this could occur due to untreated cavities, or an injury to the tooth that exposes sensitive inner tissues to bacteria. Since the infection involves the pulp at the center of the tooth, the nerve center of it, this could mean the tooth has the potential to die and require extraction, or become lost. Treatment is crucial when a child reports pain when eating, or a persistent toothache or sensitivity. Treatment could help reverse their teeth, and limit the risk of further complications like misalignment and the spread of infection!
Pulpotomy
We will take detailed digital images of the tooth, including x-rays, so we can plan the procedure with precision and accuracy. The pulpotomy is a conservative alternative to the root canal. We will first numb the tooth and then gently open it to remove the infected portions of structure. Next, we add a special medicated filling. The tooth may also be capped with a dental crown, which can be designed to blend with the smile. The procedure stops discomfort and brings relief.
Safeguarding Little Smiles
Actions can be taken to help prevent trouble for little smiles! When your child sees us for a cleaning, we remove the harmful layers of plaque and tartar that could weaken the outer enamel. We can also apply fluoride gel to strengthen the outer enamel, and use dental sealants to protects rear teeth, which are often hard for kids to reach when brushing and flossing. Sealants help lower the risk of cavities and worsening complications, and can stay in place for up to ten years in some cases.
At home, you can also help by making sure your kids brush and floss daily, and don't overindulge in foods and drinks high in sugar. These actions help protect smiles and keep them bright and healthy! If you have any questions about how we treat serious oral health issues in little smiles, then contact our team today, or schedule a checkup and cleaning for your little one.
Your Round Rock, TX Dentist Offers Quality Restorations
We want to help protect children from painful symptoms and other impacts of an infected tooth. To find out more about how we safeguard little smiles against losing teeth, contact your Round Rock, TX, pediatric dentist, Dr. Thames, by calling 512-733-5311.