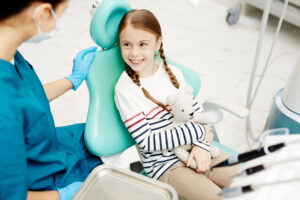 There are several reasons why your kids should make regular trips to see their dentist. Many of the benefits to consistent treatment are the same for kids as adults. One important reason to bring them in is to help them stay safe from dental decay. At an early age, cavities can be especially concerning, because if they are not addressed in time and treated properly, they can cause issues with the arrival of their adult teeth and disrupt the development of their smile! Our Round Rock, TX pediatric dental office is prepared to carefully and conservatively treat cavities that affect our younger patients. We can actually provide lifelike dental fillings that preserve their smile and oral structures while they protect their surrounding enamel from further harm.
Cavities Can Cause Real Concerns At Any Age
A person at any age should be concerned about dental decay. After all, a cavity can lead to problems with a painful dental infection, and that can lead to further issues, such as the spread of bacteria or the loss of the tooth! For children, there is another concern. Problems with a primary tooth, or "baby" tooth, can have negative consequences for the ultimate development of their smile. A cavity that goes untreated can go on to affect the tooth that is waiting to erupt. If the baby tooth falls out too soon, it could lead to the inappropriate early arrival of their adult tooth, and that can lead to problems with malocclusion. Fortunately, children can be effectively treated for cavities. Just like treatment for adults, care with a lifelike dental filling can protect their tooth structure as well as their smile!
Restoring Your Child's Smile With A Lifelike Filling
A lifelike dental filling is made from a resin material that can both match your enamel and bond to it. When it is put in place, it will adhere to the surrounding structure to keep it safe from oral bacteria, and it will provide support so that they can still bite and chew without difficulty. This is the most conservative option for cavity treatment. When it is appropriate to do so, we can provide a dental crown to make sure a larger cavity is completely addressed.
We Can Also Help Kids Remain Cavity-Free
Remember that regular trips to the dentist for checkups and cleanings help kids stay free from cavity troubles. On top of the care they receive in the office, kids can be better protected thanks to these visits because they will receive help in developing and maintaining a good oral hygiene routine they can follow at home!
Talk To Your Round Rock, TX Pediatric Dentist To Make Sure Your Child's Smile Is Properly Restored
When a cavity affects your child's smile, know that Pediatric Dentistry Of Round Rock is ready to help! If you would like to learn more about our services, contact your Round Rock, TX, pediatric dentist, Dr. Thames, by calling 512-733-5311.