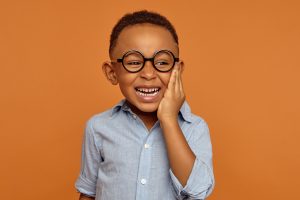 Preventive dentistry helps prevent major oral health issues from developing, keeping kids stay free of tooth decay and other complications. But what if a child has a cavity, or sustains an injury that chips or cracks a tooth? In these scenarios, then your child may benefit from restorative dentistry from your Round Rock, TX, pediatric dentist!
Tooth Decay and Dental Infection
Cavities are a very common issue for children. The combination of consuming too many sugary foods and drinks, and issues properly brushing and flossing each day, often lead to an increased severity of plaque buildup and weakened tooth enamel. Tooth decay then forms that unless treated, could mean an infection. With an infection comes the risk of tooth loss, and premature loss of baby teeth could alter how the permanent teeth erupt in the smile, causing dental misalignment. With restorative care, we can treat cavities using a lifelike composite resin that is metal-free. For infected teeth, we have root canal procedures that extract infected tissues and cap the tooth with a crown.
Broken or Cracked Teeth
Children are very active, and sometimes injuries happen as a result. Sometimes when a tooth is cracked or chipped, the damage is very minor and treatment isn't necessary. However, other times even minor damage could expose portions of the inner dentin, leading to the onset of painful cavities or infection. When a tooth is damaged, you can call us for an emergency visit, even outside of normal business hours. After examining the smile, we can decide if bonding or crowns are the right choice for repairing the smile!
Ensuring a Lifelike Appearance
We believe in a biocompatible approach to dentistry, which is why when possible we use restorations that contain no metals, and can be color-matched to blend with the smile. Our fillings are metal-free and can repair cavities, and the same composite resin material used can also reshapes teeth and mask cosmetic issues too. Our crowns may be crafted from ceramic, which is powerful, but also lifelike in appearance. We want to make sure your little one never hesitates to smile, and that he or she enjoys quality treatment that protects the smile from complications down the road.
If you have any questions about how we approach restorative dentistry, or if you child has a toothache or a damaged tooth, then please contact our team today!
Pediatric Dentistry of Round Rock Offers Restorative Dentistry
Pediatric Dentistry of Round Rock wants to help your children maintain their best smiles by preventing major oral health complications. If you want to learn more about how restorative dental care protects little smiles, then start by contacting the Pediatric Dentistry of Round Rock in Round Rock, TX at 512-733-5311.