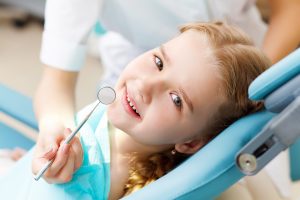 When a child has a tooth that is impacted, or complicates the alignment and health of surrounding teeth, then the tooth may need to be removed. In today's blog, your Round Rock, TX, pediatric dentist wants to talk about how we extract teeth, and the steps we take to ensure the procedure is a comfortable one. Sometimes, a safe and comfortable removal could help preserve your child's smile and avoid major oral health complications!
When a Little Smile Benefits from Extraction
Sometimes a child needs to have a tooth removed if a filling or crown isn't enough to treat it. For example, if a severe cavity forms that cannot be addressed with a filling or pulpotomy procedure, then removal could prevent the issue from spreading to other parts of the smile. Or if a tooth is too damaged, then taking it out also prevents infection and other complications. In some cases, removal could be prescribed as part of the orthodontic process, or to remove an impacted permanent tooth or baby tooth that hasn't fallen out in time.
Administering Dental Sedation
We always take time to ensure your child's treatment is a comfortable one, whether they're undergoing filling or have a tooth completely removed. For example, we always administer a local anesthetic to keep them comfortable. We could also offer dental sedation, which is especially helpful for children with anxiety or special needs. We have multiple options available for varying depths of sedation. We also take time to talk to your child and answer any questions or concerns, so they feel heard and comfortable.
The Procedure
The treatment itself takes about 30 minutes to complete. After your little one is calm and comfortable, we use a pair of forceps to gently free them from the smile. We then take steps to preserve the extraction site. We can remove sutures in a follow-up visit, and may prescribe medication to facilitate a healing process, and we will monitor the smile with routine checkups and cleanings. If you have any questions about how we treat serious oral health issues, including tooth extractions, then contact our team today. We want to help kids of all ages enjoy optimal oral health and avoid serious issues that could threaten the health, beauty, and stability of the smile.
Talk To Your Round Rock, TX Pediatric Dentist About Restorative Treatments
At Pediatric Dentistry Of Round Rock, we strive to help kids of all ages maintain a strong and healthy smile. If your child has a damaged or impacted tooth, then please contact your Round Rock, TX, pediatric dentist, Dr. Thames, by calling 512-733-5311. We help kids of all ages maintain good oral health, and even gain a better understanding of their own oral health.