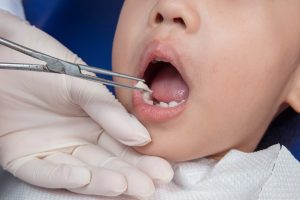 When a tooth is severely infected or damaged, or has become impacted, this could lead to issues that require major intervention in the future. Often, this could be avoided by removing a compromised tooth completely in the early stages. In today's blog, your Round Rock, TX, pediatric dentist explains how we perform extractions to help prevent complications in little smiles.
When a Child May Require One
As we mentioned above, we may suggest one to remove infected teeth that could threaten the rest of the smile. Same with one so damaged that treatment with a crown isn't possible. If a baby tooth fails to fall out, or a permanent tooth becomes impacted severely, then removal could help maintain good alignment and prevent the need for orthodontics. When we remove a tooth, we do so to help preserve good oral health, and to help your child smile with confidence.
Removing a Tooth Gently
The procedure rarely takes more than about a half hour, but we still take time to ensure your little one is comfortable. Our team members can answer any questions they have, and talk to them in a way that helps them feel comfortable and at ease. We also have local numbing agents and dental sedation. We will choose the sedation based on your child's health and medical history, as well as the procedure being performed and their anxiety levels. Your child may feel a little groggy afterwards, but he or she will have stayed calm and relaxed throughout the procedure. To extract the tooth, we will use a pair or forceps. Then we suture the area closed. Your child will need to rest for a day and will provide special instructions, as well as medications. The sutures will be removed in a follow-up visit.
Protecting Their Smiles
To help keep an eye on the smile and diagnose and treat issues in the earliest stages, your little ones should see us once every six months. During these visits, we examine smiles with digital x-ray and intraoral cameras, using a fraction of the radiation and offering a diagnosis with greater precision and accuracy. We also clean the teeth, removing harmful layers of plaque and tartar. If you have any questions about how we safeguard smiles, then contract our team to learn more. We want to help your kids enjoy strong healthy smiles, and a visit before school starts and their schedule becomes more hectic is definitely recommended!
Pediatric Dentistry Of Round Rock Can Extract a Tooth
Pediatric Dentistry Of Round Rock wants to help kids avoid the need for extensive treatments down the road. To find out more about our restorative treatments for children, then contact your Round Rock, TX, pediatric dentist, Dr. Thames, by calling 512-733-5311.