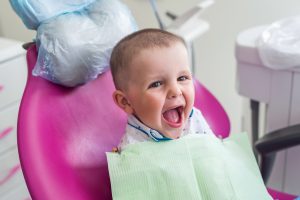 When children undergo the placement of restorations or other more involved dental procedures, we want to make sure they continue to feel relaxed and comfortable. To do so, your Round Rock, TX, pediatric dentist may prescribe dental sedation. In today's blog, we're looking at the three different options we provide for children in our community.
Choosing the Right Option
The option we recommend for your child will depend on a number of factors. We will look at your child's age, medical history, and levels of dental anxiety. We will have a trained anesthesiologist in the room to monitor your child too! If your little one does have a serious phobia of the dentist, remember that attending routine checkup and cleaning visits every six months could lower this as your child becomes accustomed to the sights and sounds of the dentist's office. We also have a chance to discuss their oral health and help instill good dental habits. Your children could also be more likely to continue attending checkups in adulthood!
Our Three Sedation Choices
For more intensive treatments, or for children with special needs or high levels of anxiety, we may recommend general anesthesia. The is the deepest form available and provides a state of unconsciousness for your child, with no memory of the procedure. The effects take time to wear off. We also have oral sedation, which is administered in a pill or liquid form prior to the procedure, offering a deep state of calm and relaxation. Children may experience grogginess as the effects begin to wear off following treatment. The most common form prescribed is known as nitrous oxide. Administered through a mask over the nose, this offers a very relaxed but conscious state. The effects wear off as soon as the procedure ends, so your child can likely return to the school too!
Schedule a Fall Visit
If your child hasn't seen the dentist yet for a back-to-school appointment, schedule one now! We can make sure your little one is beginning the school year with a healthy and bright smile, addressing issues like tooth decay before they can lead to infections and persistent aches! If you have any questions about our sedation options, or if you would like to schedule a visit for your little one, then contact our team today. We would love to help kids of all ages in our community maintain their best possible smile.
Pediatric Dentistry Of Round Rock Offers Care with Comfort
Pediatric Dentistry Of Round Rock is ready to help your child receive necessary treatment in a comfortable manner. To find out more about how we ensure the comfort of your children, then contact your Round Rock, TX, pediatric dentist, Dr. Thames, by calling 512-733-5311.