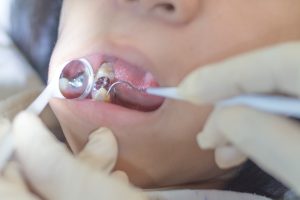 Fillings are not the only restoration option we have for children's smiles. To repair damage, prevent further trauma, and even address issues like decay or infection, we could place a crown. In today's blog, your Round Rock, TX, pediatric dentist will discuss how we design and place a custom-made dental crown.
What Is a Crown?
A dental crown is a tough and durable restoration, one designed to address a wide array of cosmetic and restorative concerns at once. The restoration itself covers every visible portion of a tooth, from the gum line up. When a problem with the smile arises that is too severe to be addressed with dental fillings or dental bonding, then we may suggest one to prevent further issues with the smile, issues that could eventually mean the premature loss of a baby tooth for your little one.
Benefits for Children
Placement could help improve the balance of the bite and prevent strain and discomfort for your child. Placement could improve chewing and also help promote better speech development. We could also use them to treat advanced tooth decay or to complete a root canal for an infected tooth, which prevents tooth loss. If a tooth is severely cracked or chipped then we can repair it to prevent decay or infection, and to preserve the balance of your bite. If a tooth is lost prematurely, then we could use them to secure a bridge and make the smile full again.
Crafting and Placing Your Child's Restoration
Each one placed is custom-made for your child, to ensure comfort and prevent complications. We begin by administering a numbing agent and dental sedation, allowing your little one to ensure a calm and relaxed state. Next, we remove structure from the tooth and take detailed images and impressions with digital technology. We use the information to create them, ensuring they fit comfortably. We could use metal or zirconia. Both are durable and provide a dependable chewing surface, but zirconia can be color-matched to blend with the smile. We attach them with a bonding agent or composite. They can stay in place for years to provide a long-lasting improvement for the smile.
If you have any questions about how we use them to help repair smiles or to find out if your child benefits from one, then contact our team today. Summer is a great time to see us for treatment, as your little one doesn't have to miss school!
Pediatric Dentistry Of Round Rock Provides Dental Restorations
Pediatric Dentistry Of Round Rock understands that sometimes issues arise that require a restoration. To find out more about how we create and place a custom-made dental crown, then contact your Round Rock, TX, pediatric dentist, Dr. Thames, by calling 512-733-5311.