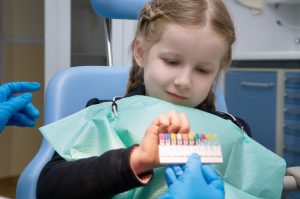 When an advanced cavity forms, the tooth could become infected and eventually lost! Premature loss of baby teeth in childhood could lead to issues like misalignment. However, your Round Rock, TX, pediatric dentist is ready to help treat the tooth and provide relief with a custom-made dental crown.
The Warning Signs Cavities and Infections
Cavities form when harmful oral bacteria reach the inner layers of dentin, which is only possible when poor oral health or injury compromises the protective layer of enamel. As the cavity spreads, the inner pulp, your tooth's nerve center, is exposed to bacteria, leading to infection. Your child may report pain when biting down or chewing, or complain about an aching tooth. If you attend regular checkup visits, then our team will identify these issues early, often before your child ever experiences discomfort. As soon as your child complains about toothaches, let us know.
Dangers for the Smile
Treatment is crucial for their smile, even if the issue develops in baby teeth! A child's primary teeth fall out on a specific schedule, which means they could fall out weeks, months, or even years after a cavity forms. As a result, the infection could cause the tooth to become lost, or be extracted to protect the rest of the smile from infection. Losing teeth early impacts how the permanent teeth erupt, which could mean misalignment. With dental misalignment comes issues with your little one's appearance, and an increased risk of poor oral health, from cavities and gingivitis to breathing obstruction issues!
Creating and Placing a Crown
Teeth receiving them likely undergo serious strain and pressure from chewing, so we need a restoration that can absorb these bite forces and stay in place for years to come. The crown fits over the entire visible portion of the tooth, capping it. We could place metal or zirconia. Both are strong and durable, but zirconia has the added benefit of looking natural. We even shade zirconia to blend with your little one's smile! Placing a crown improves speech, provides proper chewing, safeguards baby teeth, and lasts for several years! Placement takes about two visits and we take steps to ensure your little one is comfortable.
If you have any questions about how we create and place our custom and lifelike dental crowns, then contact our team today. We want to help your little one enjoys optimal oral health and beautiful, happy smiles!
Pediatric Dentistry of Round Rock Offers Custom Restorations
Pediatric Dentistry of Round Rock wants to make sure kids of all ages enjoy strong, healthy smiles. If you want to learn more about how our team repairs little smiles, then start by contacting the Pediatric Dentistry of Round Rock in Round Rock, TX at 512-733-5311.