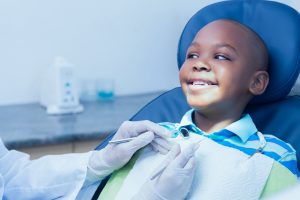 Our entire team works hard to ensure that from the moment they arrive our young patients feel welcomed and relaxed. From answering questions and concerns, to allowing them to bring a favorite stuffed animal or blanket, we want to do what we can to help. To help those undergoing more advanced treatments or for children with dental anxiety, your Round Rock, TX, pediatric dentist may use sedation dentistry too.
Ensuring Comfort
Many children could be nervous about seeing the dentist, or have high levels of dental anxiety about their visit. Others may have developmental issues that make undergoing even routine care a difficult process. We want to make sure that nothing stands between your little one and a healthier smile, which is why we offer multiple sedation options to help kids of all ages remain relaxed and enjoy their time in the office.
Nitrous Oxide and Oral Sedation
Nitrous oxide is one of the most common options for kids. We administer a gas through a mask over the nose, helping your children enter a relaxed state. While he or she will have no memory of the procedure, they will be conscious and able to respond to the dentist. The effects wear off right away when the procedure ends, so your child could potentially return to school!
With oral sedation, we offer an option that provides a deeper state of relaxation. Taken in pill or liquid form prior to the procedure, the part is still conscious but will have no memory of the treatment. The effects will take time to wear off, so your child may feel a bit groggy at first.
General Anesthesia
For more extensive treatments or for kids with issues that makes treatment difficult, we could offer general anesthesia. Your child enters a state of unconsciousness, asleep for the entire process. A trained anesthesiologist will be on hand the entire process. The effects will take time to wear off. We often recommend this option for those with more severe cases of dental anxiety.
Following any procedure, we will provide any necessary aftercare instructions, and will schedule a follow-up to examine your child's smile. Routine care has been shown to reduce dental anxiety, and to also instill good oral health habits as well. If you have any questions about our cleaning options, or about children's dentistry in general, then please contact our team today to schedule a visit.
Pediatric Dentistry of Round Rock Offers Sedation Dentistry
Pediatric Dentistry of Round Rock knows that a good experience at the dentist's office could impact their oral health in adulthood too. If you want to learn more about how we help kids feel comfortable when they visit, then start by contacting the Pediatric Dentistry of Round Rock in Round Rock, TX at 512-733-5311.