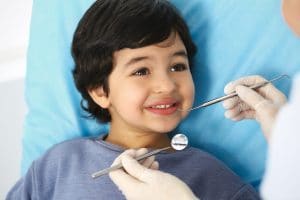 Recently, we've discussed how filling, crowns, and pulpotomies offer a solution to serious oral health issues, preserving your child's teeth. But what happens when an issue arises that cannot be addressed with a filling or crown? To protect your child's smile, your Round Rock, TX, pediatric dentist may need to perform a tooth extraction.
When Do You Prescribe One?
When we examine your child's smile every six months, we look closely for signs of trouble, hopefully to address them in the earliest stages before discomfort occurs or teeth become lost. However, we may find issues with the eruption of a tooth. A baby tooth could fail to fall out on time, or a permanent one could become impacted. We may also find one so severely decayed or infected, especially if you haven't brought your child to the dentist in some time, that to stay in place threatens the alignment of the teeth, the balance of the bite, and continued good oral health. In these scenarios, removing the tooth could prevent the spread of infection, misalignment, or other complications.
Ensuring Your Child's Comfort
We want to make sure our patients always feel comfortable and relaxed, so for a procedure like a tooth extraction we may suggest sedation or general anesthesia. With nitrous oxide, we administer a special gas through a mask over the nose. The child enters a relaxed state and remains conscious. The effects wear off right away once the procedure ends. Oral sedation offers a deeper state of relaxation, and is administered in pill or liquid form. The child may feel a little groggy once the procedure ends. The deepest option is general anesthesia, in which your child enters an unconscious state and is monitored by a trained anesthesiologist. We also take time to answer any questions your little one has, and make them feel comfortable and relaxed throughout the process.
Better Care to Safeguard Smiles
While issues with the eruption and position of the teeth often cannot be prevented, tooth decay and infection could be held at bay with routine care. Along with visits to our office for exam and cleanings every six months, as home you should help your child brush and floss, avoid consuming too much sugar, and understand the importance of regular oral hygiene. If you have any questions, then contact our team today.
Pediatric Dentistry of Round Rock Offers Quality Children's Dentistry
Pediatric Dentistry of Round Rock provides restorative care and other treatments to protect children from decay, infections, and other complications. You can talk to our team about improving your little one's oral health by contacting the Pediatric Dentistry of Round Rock in Round Rock, TX at 512-733-5311. With a preventive approach to children's dentistry, we can help your children enjoy their best smiles.