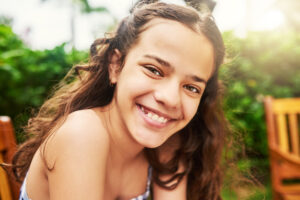 We have discussed the importance of starting to instill healthy dental habits early over the last few weeks. What about when they become a little older, however? As adult teeth begin to emerge, it is vital to give your growing child the tools they need to be successful in their dental life. As they get bigger, so does their willpower; help them to recognize the lasting benefits of routine smile maintenance.
This discussion starts at home with regular oral hygiene practices of brushing and flossing. Alongside a strong home regimen, be sure to set strict appointments with their pediatric dentist every six months at the latest. Pediatric Dentistry of Round Rock in Round Rock, TX can help you to reiterate the importance of dental health maintenance between visits. Give them the best head start that you can with routine cleanings and examinations to bolster your home message. They might not always listen to you in the way they did when they were younger, so sometimes an additional voice can help!
Keeping The Focus On Dental Health
There are certainly difficulties in getting young children to properly care for their oral health. Brushing might not seem like the most fun activity for them all the time. For this reason, making their brushing exciting and engaging twice each day can be helpful in holding their attention.
As they become older, smile maintenance can become an entirely different struggle. Children tend to become less excited by games in brushing and flossing. Understandably, they need to become more independent in their actions. While this can be a great opportunity for them, there are also pitfalls. Enamel damage and wear is not fully reversible, so constant care helps to retain their biological material.
Consistent Appointments Help Care Stay Preventive
Place your appointments at set times in order to ensure that you keep to a strict timeline. The beginning of the year is an easy time for parents to remember. This approach also places the second yearly visit around the time when school starts back up. A back-to-school cleaning can tie oral health care to the achievement of starting new classes. Capitalize on yearly benchmarks to stress the importance of dental care!
Helping Smiles Flourish In Round Rock, TX
As children age, their dental needs shift. Stressing regular oral health maintenance can help them to start their dental lives properly. Enamel damage and wear for their new adult teeth stays with them through the course of their lives. Help chart a path for them that includes keeping their healthy natural matter long into adulthood. Call your Round Rock, TX, dentist, Dr. Thames, by calling 512-733-5311 to schedule an appointment or to learn more about the necessity of routine oral health maintenance in preteen mouths!