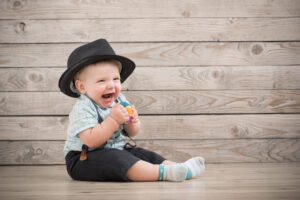 For parents of newborn children, oral health can be a bit of a mystery. After all, how do you brush a tooth before they even come in? Care for the periodontal health of your child through proper maintenance. This term refers to the vitality of the gum tissue, and its infection can start at an early age.
A child's teeth start coming in when they reach four to six months old and even before this time, there are things you can do to ensure that your baby has a stable dental foundation. At Pediatric Dentistry of Round Rock in Round Rock, TX, we help young smiles grow with their future in mind. Take the time to learn proper maintenance for your little one's periodontal health and help them have the tools they need to be successful through teething and beyond!
Dental Habits Form When Young
One effective way to ensure that your children grow with strong dental values comes by standing tall as an adult and being a positive role model. This means that you need to set strict appointments for both yourself and your little ones to ensure that the whole family receives the treatment that they need.
If you are currently expecting and want more information on how to properly care for newborn mouths, give us a call and we can discuss the steps you should take to keep them safe when they are brand new.
Always be sure to clean their gums with a clean cloth after feeding so that leftover milk does not rest on their gums for an extended period of time. It may help to practice before the child is born. With one hand, you will cradle the baby so that they stay close and secure. Then wrap a bit of clean damp cloth around your index finger, and tenderly massage their gums.
Infant Oral Infection Can Be Significant
As adults, we may focus on the lasting effects of tooth decay on our adult dental structures. These transmissible bacteria can spread between you and your child, however, so take the necessary precautions to keep them safe. Never test a bottle by drinking directly from it, as you could be sharing germs with your young baby.
Once they start to develop their first set of teeth, you can shift over to dental maintenance with the help of a trained pediatric dentist. Care for the oral health of your child from day one and give them the strongest tools they need to stay safe.
Comprehensive Pediatric Dentistry In Round Rock, TX
Start early to give your child a stable oral health foundation on which to develop. Contact your Round Rock, TX, dentist, Dr. Thames, by calling 512-733-5311 to learn how we help young smiles grow!