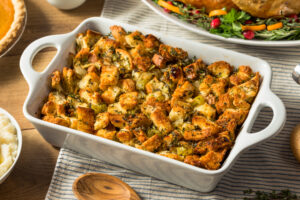 Thanksgiving and the holiday season are a fun time for children, but also a time when kids are exposed to lots of sugar and starch, which leads to tooth decay. Fortunately, we have a few tips to help keep little smiles healthy and strong. In today's blog, your Round Rock, TX, pediatric dentist talks about protecting smiles from holiday cavities.
Sugar, Starch, and Tooth Decay
You should be aware of what is on your child's plate, so they can enjoy items high in sugar and starch in moderation. These two ingredients make our meals delicious, but they also cling to little smiles and become trapped between teeth. Harmful oral bacteria then break them down, a process that elevates oral acidity and coats the teeth in plaque. This buildup then weakens and erodes the protective enamel, allowing cavities to form, along with bad breath and teeth stains. To avoid painful cavities that threaten oral health, you need to take a few preventive measures during your holiday meals!
Staying Healthy During Your Feast
Examples of starch heavy foods include stuffing, mashed potatoes, sweet potato casserole, rolls, and biscuits. Sugar is obviously found in cobblers, cakes, pies, and cookies. Be sure your children eat these in moderation, and also balance their plate with healthy options, like turkey and fresh fruits and vegetables. Some fresh items, like carrots, apples, and broccoli, can help scrub away plaque and food particles as they're consumed. Be sure your kids also drink plenty of water instead of sodas, as this helps rinse away food particles and contains no sugar or acids.
During the holiday season, kids still need to practice good oral hygiene. Make sure they start each morning by brushing for two minutes with a fluoride toothpaste. Kids three and younger need a rice sized amount, kids over the age of three need a pea sized amount. They should do the same before bed, and also floss to remove what is beyond a toothbrush's reach. These actions help fight cavities!
Checkups and Cleanings
There is still time to bring your children in for a checkup and cleaning before 2022 ends and your dental insurance benefits expire. These visits allow us to examine the smile and diagnose issues that need treatment. We also clean the teeth by removing all plaque and tartar buildup to keep cavities, bad breath, and teeth stains at bay. If you have any questions about protecting little smiles during the Thanksgiving and holiday season, then contact our team today.
Contact Us To Learn More About Avoiding Childhood Cavities
We would like to help children enjoy good oral health throughout the holiday season. To learn more or to schedule an appointment, you can reach out to your Round Rock, TX, dentist, Dr. Thames, by calling 512-733-5311.