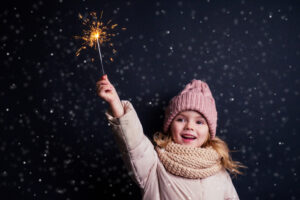 We're all thinking of resolutions and striving to improve ourselves in 2023. For you and your children, this could mean boosting your oral health with positive changes to your daily routine. In today's blog, your Round Rock, TX, pediatric dentist talks about improving little smiles in 2023 and beyond!
Brushing and Flossing
Brushing and flossing is essential for fighting serious oral health problems, such as cavities, infection, and even gingivitis, bad breath, and stained teeth. For babies and toddlers, you can brush for them in the morning and at night. As they grow older, they can do this themselves with an age-appropriate toothbrush, and you can help time them with a fun song or video, or even a sand timer. Keep an eye on them to make sure they clean their teeth properly, or you can even brush your own teeth alongside them. Be sure kids three and younger use a rice sized amount of fluoride toothpaste, and kids over the age of three need a pea sized amount.
Once there are teeth sitting next to one another in their smiles, they need to begin flossing. For young children, a pick can be used by you or them, as these work great with limited dexterity. As they grow older and dexterity improves, they can use floss tape just like you do. Clean up and down each side of every tooth, and dip below the gum line too, as this removes the trapped food particles.
Improved Diets
To help fight tooth decay, be sure they enjoy sugary and starchy foods in moderation, and that they drink water instead of sodas, energy drinks, and sports drinks. These actions help limit the food and drink particles that harmful oral bacteria can consume to create plaque and tartar, the buildup linked to cavities and other serious oral health issues. Offer them healthy snacks, like fresh fruits and veggies!
Mouthguards
If your children play full contact sports, order them mouthguards to help limit the risk of cracked, chipped, or broken teeth. This helps preserve the health and function of their smiles!
Checkups and Cleanings
Finally, be sure they see us every six months for a checkup and cleaning, so we can monitor their smiles for signs of trouble and address them in the earliest stages. We will also use a cleaning to remove all plaque and tartar to keep smiles healthy and strong. If you have any questions about protecting little smiles, then give us a call today.
Talk To Your Round Rock, TX Pediatric Dentist About Children's Dentistry
Our team wants to help your children enjoy better oral health in 2023. To learn more or to schedule an appointment, please contact your Round Rock, TX, pediatric dentist, Dr. Thames, by calling 512-733-5311.