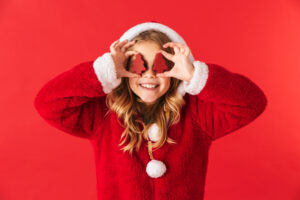 This time of year, it seems like the days just fly by. When you are a parent, this can be even more stressful and difficult to manage. You want your family to look their best through a whirlwind of activity, often including haircuts and new clothes. As you see loved ones, it feels important to give your best appearance during the holiday season.
That makes this a great time to schedule your child's routine cleaning and examination to ensure that they go into the new year with a strong grasp on their oral health. When the little ones look and feel their best, it can remove some of your stress, as well. Your Round Rock, TX pediatric dentist is here to help you have healthy smiles over the holidays. Also, use this time to instill strong dental habits in your youngster!
An Eye On Their Development
One of the most important roles of a parent is to ensure that their child's growth happens naturally and without complication. This can, however, be much trickier than it seems on the surface. None of us are experts in all facets of human development, nor should we be expected to be!
For this reason, it is vital to seek the guidance of trained health providers and stick to the schedules given. For a young mouth, we suggest that they see a dentist at least every 6 months for an examination. Their mouths are rapidly changing and identifying possible troublesome developments can help to solve them before they create lating concerns.
Create Healthy Habits
Instilling strong oral health values starts at an early age. By tying routine cleanings and examinations to a pivotal time can help young minds to associate dental care with positive actions. This way, the dentist seems less of a punishment and more of a sign of excitement!
Patients often have success around this time of year in getting children to prepare for such a big event as the holidays. If they know that all that fun comes after their dental appointment, it becomes much easier for them to stomach. This is also why parents regularly schedule back-to-school cleanings. Tethering accomplishment to positive habits is a helpful way to give your children a leg up!
Schedule A Pediatric Examination in Round Rock, TX
The holiday season can be a fantastic time of year to bring your child in for a cleaning and examination. Call Pediatric Dentistry of Round Rock at (979)472-4498 today to schedule an appointment to ensure that your little one's smile is safe and looking great for your Christmas photos. Build their health values so that they can take these habits into adulthood!