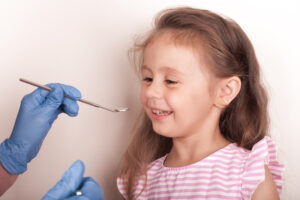 Our team knows that between the holiday season and the approaching end of the year, there isn't much time to undergo treatment at our office. Which is why we want to offer parents in our community the chance to use the dentist benefits they have for their children before they expire. In today's blog, your Round Rock, TX, pediatric dentist talks about using your benefits before they're gone!
Your Dental Insurance Coverage
If you currently carry dental insurance, or if you have a health savings account, then you have benefits and funds that can be used in the year, but usually won't roll over. Which means if you don't use them, you lose them. To help prevent that from happening, we recommend scheduling a visit with our team right away. This appointment will involve an exam with digital x-rays and intraoral cameras to offer a diagnosis with precision and accuracy. We can help your children start 2023 with a healthy and beautiful smile!
Starting with an Initial Checkup
The checkup involves our team taking a close look at the smile and identifying the cause and extent of any oral health concerns we discover. We then plan treatment to correct them. For kids, this could mean tooth decay, infected teeth, gingivitis, or issues with the baby teeth erupting and falling out on schedule, as well as the eruption of the permanent teeth. We also see if your children benefit from preventive treatments like fluoride gel and dental sealants to avoid the onset of tooth decay. In the same visit, we will also clean the teeth. The procedure involves removing all plaque and tartar buildup with an ultrasonic scaling device and a manual tool, brightening the teeth and limiting the risk of cavities.
Crafting a Personalized Treatment Plan
We have a full array of treatments for kids, from lifelike fillings and corns to address decay and damage, to cosmetic treatments to address minor damage or remove discoloration for older children. We can screen for oral cancer, and offer a root canal alternative for infected teeth. We want to help kids enjoy optimal oral health, and avoid the onset of serious issues that could threaten smile stability. If you have any questions about our treatment options, or about scheduling a checkup and cleaning with our team members, then contact our team today to learn more. A strong and healthy smile in 2023 and beyond is always possible, and we want to help!
Contact Us To Learn More About Treating Little Smiles
Our team is ready to help make big changes to your child's smile before 2023 arrives. To learn more or to schedule an appointment, you can reach out to your Round Rock, TX, dentist, Dr. Thames, by calling 512-733-5311.