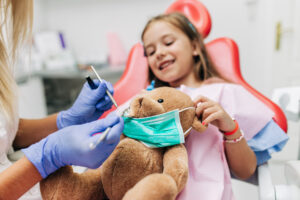 By gently and consistently keeping your child's smile clean at an early age, you protect them against threats to their smile that can disrupt their development and well-being. When they are old enough to brush and floss for themselves, the right guidance and support can ensure they stay defended against different threats. One thing to keep in mind is that you should not put all of your hopes into daily care. After all, kids can and should rely on regular dental cleanings to help protect them! Our Round Rock, TX dentist's office is ready to help your little ones take care of their teeth by cleaning and evaluating them regularly, and by stepping in to provide more involved care when needed.
Is Your Child's Smile Being Kept Safe From Plaque And Tartar?
Daily protection in the form of teeth cleanings will help kids remain safe from the accumulation of plaque and tartar. From the time their teeth first start to erupt, treatment to protect their smile will fall to you. Over time, kids can show the kind of progress in their dexterity that lets them take on this task on their own, but they can depend on your guidance both before and after they take over this routine. In addition to providing them this support yourself, remember to count on regular preventive dental services to ensure that your little ones are being supported and protected against the formation of tartar and plaque!
The Role Dental Cleanings Play In Protecting Kids From Oral Health Threats
People of all ages can have more issues with plaque and tartar buildup than they anticipate. Even if you give your child dedicated support and encouragement, deposits can form and leave them vulnerable to problems. Fortunately, they will be protected against this accumulation when they have their teeth professionally cleaned. These sessions lower their risk for cavities and other threats, which can ensure they have no issues with their still-developing smiles!
What We Can Do If Your Child Needs More Than Preventive Care
Our office is prepared to help our young patients when cavities and other problems affect them. Dental decay is a real problem to look out for, particularly when kids are not enjoying the level of hygiene support that they should have. Depending on their needs when they arrive, we can look at different treatment options, which can range from the placement of fillings to more involved work to address uncomfortable tooth infections.
Talk To Your Round Rock, TX Dentist About Scheduling A Dental Cleaning For Your Child
With regular dental cleanings scheduled, you can protect your kids against the accumulation of plaque and tartar as well as more severe issues with cavities. If you would like to learn more or book an appointment, contact your Round Rock, TX, dentist, Dr. Thames, by calling 512-733-5311.