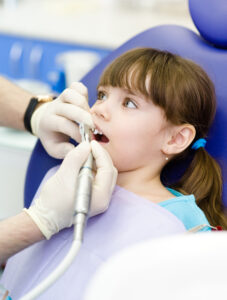 A checkup isn't the only reason to see us every six months. Children also need to have their teeth professionally cleaned twice a year starting at age two. In today's blog, your Round Rock, TX, pediatric dentist talks about how kids benefit from a cleaning, and what they can expect from the treatment process.
What Happens When Plaque Accumulates
Plaque is the result of bacteria breaking down particles of sugar and starch left behind by the foods and drinks we consume. This creates a sticky layer that coats the teeth and hardens with time into tartar. When this happens, the outer enamel could weaken and erode, leading to painful cavities. In older kids, the gums could become inflamed as well. Children are also more susceptible to bad breath and teeth stains too. To protect the health and beauty of the smile, we need to remove this buildup every six months, before it can allow cavities and other complications.
Removal With Dental Cleanings
Starting at age two, kids need to have a checkup and cleaning every six months, just like adults do. The cleaning process is a fairly simple one. Our team will first use an ultrasonic scaling device and a manual pick to break up and remove all plaque and tartar from the surfaces of the teeth. Once we do, we will then thoroughly polish the teeth for a brighter appearance and a smoother tooth surface. This helps protect the health of the smile, as issues like cavities and infection take months to come, and regular visits mean preventing this from occurring.
Limiting Plaque Buildup
You could also help your kids avoid problems at home. Routine daily care helps limit how much plaque can actually form before the next visit. You should make sure they brush twice a day, once when they wake up and again before bed, and that they use a small amount of fluoride toothpaste each time. Flossing every evening is beneficial too! Try to cut back on their access to foods and drinks high in sugar and starch as well. Encourage water and fresh fruits and veggies, as well as whole grain breads and crackers, sugar-free gum, and low- fat yogurts.
If you have any questions about the dental cleaning process, or if you would like to schedule one for your child, then contact our team today to learn more. We want to work with you to keep your children's smiles healthy and strong.
Visit Your Round Rock, TX Dentist's Office!
We would like to help your children avoid cavities, infections, and issues like gingivitis. If you have questions about our preventive treatment options for kids or all ages, or if you wish to set up an appointment, you can reach Pediatric Dentistry Of Round Rock by calling 512-733-5311.