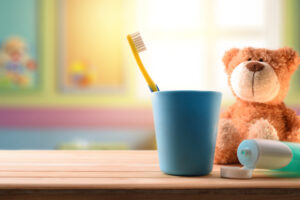 We recently talked about the checkup for kids, but in the same visit we also offer a professional cleaning. Just like adults, kids need to have regular care to control plaque buildup and prevent major complications from developing. In today's blog, your Round Rock, TX, pediatric dentist talks about the process of keeping little smiles healthy.
The Causes (and Risks) of Plaque Buildup
Plaque is an issue that impacts smiles of all ages, including kids. This is a bacterial byproduct that forms on the surfaces of the teeth as bacteria break down the particles left between the teeth from the foods and drinks we consume, particularly those high in sugar and starch. The layers are sticky and harden into tartar with time. While brushing and flossing limit the severity, only a professional cleaning can completely remove the buildup from the smile. The buildup is linked to bad breath, teeth stains, and a greater risk of tooth decay, infection, and even gingivitis.
Help With a Cleaning
The cleaning is a simple procedure. We will use an ultrasonic scaling device and a manual tool to begin breaking up and removing all buildup from the surfaces of the teeth. The process only takes a few minutes, and we end with a thorough polishing, which makes the teeth appear brighter and feel smoother. This should be done every six months, and helps limit the risk of serious oral health issues. However, in between these visits your kids still need to clean their teeth at home, and you can help!
Controlling Plaque From Home
For very young children, you can assist, and for older kids you can monitor them to ensure they're cleansing their teeth properly. Kids need to brush in the morning and again at night, with an age-appropriate toothbrush. Kids three and younger need a rice-sized bit of fluoride toothpaste, those over the age of three need a pea-sized amount. Children should clean their teeth for at least two minutes, and a sand timer or fun song could be used to help time them. Flossing is also crucial, as this removes the food particles beyond the reach of a toothbrush. You can also help by lowering their consumption of sugary foods and drinks.
If you have any questions about dental cleanings or about protecting little smiles from home, then contact our team today to learn more. We want to help children of all ages enjoy good oral health!
Your Round Rock, TX Pediatric Dentist Offers Preventive Care
At Pediatric Dentistry Of Round Rock, we want to help children of all ages maintain good oral health with regular treatment. For more information, or to set up an appointment, contact your Round Rock, TX, pediatric dentist, Dr. Thames, by calling 512-733-5311.