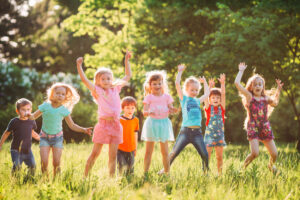 When you think about oral cancer screenings, you probably assume this is for adults only. And while a screening once a year is paramount for adults, we believe kids need one too. In today's blog, your Round Rock, TX, pediatric dentist talks about why kids need screenings, and the warning signs of oral cancer.
Warning Signs and Risk Factors
Potential signs of trouble, which you should be aware of for your children and for yourself, include lesions, sores, rough patches, or red and white splotches in the mouth that don't heal one to two weeks. When these occur, you should let us know right away. Other signs of trouble include persistent hoarseness, dry lip ulcers, changes in the voice, sore throats, ear pain, or unexplained weight. Problems chewing, swallowing, and moving the tongue are possible too. When these warning signs appear, contact us to undergo a thorough oral cancer screening.
The Screening Process
The process is a fast, comfortable, and thorough one. Using advanced technology, we carefully examine the mouth and oral tissues for signs of possible precancerous or cancerous areas. Our team will look at the lips, roof and floor of the mouth, as well as the throat, lumps, tenderness, and more. When we discover areas that give us pause, we could discuss ordering a biopsy and referring your child to a specialist for further testing and treatment. While the odds of developing oral cancer in childhood is very low, it isn't zero, so we believe in offering these as part of every checkup visit!
Checkups and Cleanings
The first visit for a checkup should occur at around age one once the initial primary tooth erupts, afterward regular visits should happen every six months starting at around age one. In addition to the screenings we discussed above, we also watch for signs of tooth decay, gingivitis, and issues with the loss of baby teeth and the eruption of permanent ones, which could increase the risk of misalignment unless addressed. We also clean the teeth, a process that removes harmful layers of plaque and tartar. This could help fight bad breath and teeth stains, and also improve overall oral health as well.
If you have any questions about our preventive treatment options, then contact our team today to learn more. We want to help your children continue to enjoy optimal oral health for years to come!
Make an Appointment With Your Round Rock, TX Dentist's Office
We would like to help protect the health of your child's smile with regular checkups every six months. If you have questions about our preventive dental appointments, or if you wish to set up an appointment, you can reach Pediatric Dentistry Of Round Rock by calling 512-733-5311.