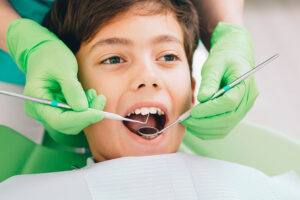 While the risk of oral cancer is much lower in children than in adults, we always like to be cautious and recommend a screening every year. After all, the chances are low, but not zero. In today's blog, your Round Rock, TX, pediatric dentist talks about the importance of a regular oral cancer screening as part of the checkup visit.
The Screening Process
The oral cancer screening process involves a visual exam and the use of advanced digital images to take clear and detailed pictures of your child's teeth, gums, and oral structures. We begin by examining the lips and nearby tissue, and proceed to the back of the throat, as well as the cheeks, mouth, and roof and floor of your mouth. We're looking for lumps, rough patches, sore spots, or areas with red and white splotches. The high mortality rate of oral cancer is mainly due to the fact that the disease is rarely caught until the late stages. But with these visits, we can catch them early on and refer your little one to a specialist for care! The screening is a simple, minimally invasive procedure, and one we can do at each checkup visit.
What to Look For
You should also be aware of common warning signs, and should let us know when they develop in your child's smile. If you recognize these same symptoms in your smile, then be sure to contact your dentist right away!  Common warning signs include difficulty moving the tongue, chewing, or swallowing. A persistent sore throat or changes to your voice could be a symptom too, as could red and white splotches or sores that don't heal after two weeks. Be sure to watch for lip ulcers, earaches, headaches, and other explained pains that don't subside. The earlier you see us for a screening, the sooner treatment can be provided to improve overall oral health!
The Other Benefits of Six-Month Visits
These visits also allow us to diagnose cavities and infection early, treating them before they lead to worsening pain and tooth loss. We also make sure your child's baby teeth fall out on schedule, and that their permanent ones erupt properly. Finally, we could provide treatments to lower cavity risk, including dental sealants and fluoride treatments. If you have any questions about how we screen and examine little smiles, then contact our team today.
Your Round Rock, TX Pediatric Dentist Helps Protect Little Smiles
At Pediatric Dentistry Of Round Rock, we're ready to help protect smiles in kids of all ages. For more information on helping kids enjoy healthy and whole smiles, or to set up an appointment, contact your Round Rock, TX, pediatric dentist, Dr. Thames, by calling 512-733-5311.