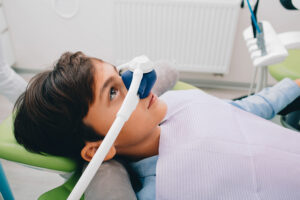 We always want the children who visit our office to feel comfortable and relaxed when they undergo care, even if they have special needs or high levels of dental anxiety. Which means we have three sedation options to help them relax. In today's blog, your Round Rock, TX, pediatric dentist talks about patient comfort.
Anxiety and Oral Surgery
Children who haven't had a chance to see the dentist regularly could have anxiety about their visit. Dental sedation could help them feel calm and relaxed. We also use this to help children with special needs that make undergoing even routine treatment difficult, or for kids undergoing more extensive treatments, such as a tooth extraction. We take a number of factors into account when we choose the right sedation option. We will look at your child's medical and dental history, their anxiety levels, and their age and weight. We will have a trained anesthesiologist on hand to monitor them as well.
Sedation Options
We have three very different options to help kids enter a calm and relaxed visit. The most common is nitrous oxide, sometimes referred to as laughing gas. This is administered through a mask over the nose, and the gas helps them enter a calm state. They will be conscious and able to respond to the dentist and stay comfortable, and often have little to no memory of the procedure. The effects wear off right away, and kids could even return to school!
Oral sedation is given via pill or liquid in the hours before the procedure. This offers a deeper state of relaxation, and your kids will have no memory of the procedure. The effects take time to wear off completely, and your kids won't be able to return to school. The deepest form of relaxation is IV, and again we will have a trained anesthesiologist on hand to monitor your children. The effects will again take time to wear off, so your little one could be a bit groggy for a bit.
After the procedure, we will send you home with any necessary aftercare instructions. Even if your child has had poor previous experience with the dentist, please understand that we have experience working with children with anxiety, and helping them feel relaxed. We will talk with them about their concerns and about the treatments, and there will be no surprises for them. If you have any questions, then contact our team today to learn more.
Visit Your Round Rock, TX, Pediatric Dentist For Treatment
We would like to help kids of all ages enjoy their visit and feel comfortable. If you would like to learn more about how we help patients stay comfortable, then contact your Round Rock, TX, pediatric dentist, Dr. Thames, by calling 512-733-5311.