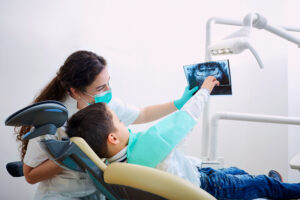 When a tooth is in pain, or damaged, this is an example of a dental emergency. You should bring your child in for an appointment as soon as possible, but you can also take steps to help alleviate discomfort and prevent complications. In today's blog, your Round Rock, TX, pediatric dentist will talk about how to address a dental emergency.
Call Us Right Away
When a tooth is injured, or your child experiences sudden but severe pain, then give us a call right. A dental emergency is any pain or injury to the teeth or gums that isn't potentially life threatening (if it is, call 911 or proceed to the nearest emergency room). We know that these situations rarely happen during normal business hours, so call us and we will schedule a time to see your little one quickly, and offer treatment to stop discomfort and prevent complications.
Easing Discomfort
After you call, you can take steps to ease your child's discomfort until we can see him or her. They can take an over-the-counter and age-appropriate pain reliever. For toothaches or objects caught between teeth, gently floss on either side of the tooth and have them rinse with warm water. If this fails to solve the problem then see us for treatment.
If a tooth is cracked or chipped, have them rinse with warm water and use a bit of gauze or cloth to control bleeding. A cold compress or ice pack to the side of the face can help control swelling. If you can recover any pieces of the tooth, then bring them with you. If a tooth is knocked out, then pick it up by the crown, never touch the root, and rinse away dirt under gently running water. Place it in a glass of milk or salt water, and bring it with you to the office. You can take the steps mentioned above to control bleeding and facial swelling. If your child has a loose or lost filling or crown, then help them avoid very hot or very cold foods and drinks, or items high in sugar, as the tooth will be very sensitive.
Visiting Our Office
We can restore a tooth in one visit using procedures like dental bonding and contouring, so your little one can leave with a strong and comfortable smile again after only one sitting. We also have crowns for more serious damage. If you have any questions about our approach to emergency dental care, then call us today!
Your Round Rock, TX, Pediatric Dentist Emergency Dentistry
When a tooth is damaged, you should bring your child for treatment right away. If you would like to learn more about our approach to emergency dentistry, then contact your Round Rock, TX, pediatric dentist, Dr. Thames, by calling 512-733-5311.