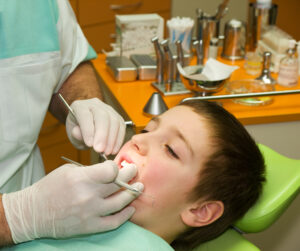 When your child endures a dental emergency, such as a chipped or cracked tooth, then we want your child to see us right away. In fact, we even offer appointments outside of normal business hours if needed. In today's blog, your Round Rock, TX, dentist offers tips for responding to a child's dental emergency.
Common Dental Emergencies
Dental emergencies could include issues that damage the teeth, exposing them to complications like disorder, tooth decay, and even infection. These could include chipped or cracked teeth. If a tooth hurts suddenly, or if there is something stuck between teeth, then we can see your child to ease discomfort. We also want to address fillings or crowns that come loose or fall out, or if a tooth is knocked out. When these emergencies happen, give us a call. Even outside of normal business hours, we will find time to see you quickly and offer your child repair to safeguard his or her smile!
Easing Your Little One's Discomfort
In the meantime, you can help ease discomfort with a few simple actions. For an aching tooth, or one with an object caught between it, rinse with warm water and have your child floss gently on either side of the tooth. If a tooth is chipped, try to recover any pieces if possible. Use cloth to stem any bleeding, and a cold compress to the side of the face to reduce swelling. If a filling or crown is compromised, avoid very hot or cold foods and drinks, or sugary options, as the exposed tooth is quite sensitive. If a tooth is knocked out, pick it up by the crown, never the root. Place it in a glass of salt water or milk and bring it with you. For all of these situations, your little one can take an age-appropriate over-the-counter pain reliever.
Protecting the Smile
We can often repair damage in one visit with a dental bonding procedure, and could save a knocked-out tooth as well. Moving forward, you can help protect your child's tooth with an athletic mouthguard for those playing sports or martial arts. Good oral health also helps prevent weakened enamel, so the teeth are strong and able to better resist injury. If you have any questions about protecting teeth, or if your child has an injured tooth that needs attention, then give us a call today. A visit now means you can use your remaining 2021 dental benefits before they expire at the end of December.
Talk To Your Round Rock, TX Pediatric Dentist About Emergency Dentistry
At Pediatric Dentistry Of Round Rock, our team is ready to help address your child's damaged tooth. If you want to learn more about easing discomfort from an injury, then please contact your Round Rock, TX, pediatric dentist, Dr. Thames, by calling 512-733-5311.