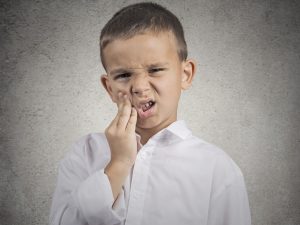 When a child has a chipped or cracked tooth, then emergency care could be used to restore the tooth and prevent major complications. In today's blog, your Round Rock, TX, pediatric dentist talks about how we offer same-day treatment to help kids avoid the onset of tooth decay and dental infection.
When to Contact Us for a Same-Day Appointment
When should you contact us to schedule a same-day appointment? If your child has something stuck between his or her teeth that cannot be removed with floss, then this means an appointment is necessary to remove it and prevent injury and discomfort. If your little one complains about a sudden toothache that doesn't pass after several hours, let us know as there could be a serious issue that needs attention. Other examples could be more obvious, such as a chipped tooth, or one that is knocked loose or out. If your child sustains an injury to the mouth and no damage is visible, remember that fractures could be invisible to the naked eye. A loose or missing restoration is a common emergency situation too!
Restoring a Smile
When we see your little one, we will take time to talk to him or her and make sure your child feels comfortable and relaxed. In some cases, we can repair damage in one visit with dental bonding, which uses the same material we employ in our tooth-colored fillings to repair minor damage. We also have custom-made crowns or more serious injuries. Old restorations that have been compromised can be replaced too! Every smile is different, which is why we always take a personalized approach.
Easing Discomfort
To help prevent major discomfort, when a tooth is injured have your child rinse with warm water and take an over-the-counter pain reliever. Use a cloth to stem any bleeding, and place a cold compress to the side of the face to stop swelling. If a tooth hurts or an object is lodged between it, have your child rinse with warm water and floss on each side of the tooth. If a restoration is compromised, avoid foods and drinks beside water until we can offer repair, as the exposed tooth is very sensitive. If a tooth is knocked out, pick it up by the crown not the root, and bring it to the office in a glass of salt water or milk!
If you have any questions, then let us know!
Pediatric Dentistry Of Round Rock Offers Same-Day Appointments
Pediatric Dentistry Of Round Rock wants to offer care to address injuries and ensure kids enjoy optimal oral health. To find out more about how we help kids enjoy healthy and strong smiles, then contact your Round Rock, TX, pediatric dentist, Dr. Thames, by calling 512-733-5311.