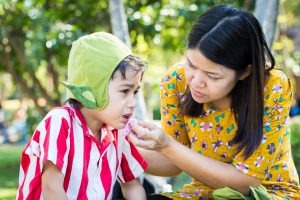 When a dental emergency happens, such as a chipped tooth, this rarely occurs at a convenient time. Fortunately, we understand, and can arrange for a time to see your child quickly. In fact, we offer same-day appointments for emergency dental care! In today's blog, your Round Rock, TX, pediatric dentist discusses our approach to repairing and safeguarding a child's smile.
When to Call Our Team
A dental emergency is any damage or injury to the teeth or gums that isn't life threatening, but is serious enough to require immediate attention. If you feel the issue is severe, then call 911 or proceed to the nearest emergency room. Otherwise simply give our team a call so we can schedule a time to see you quickly, often same-day, and offer care for your child's smile. Common examples include chipped or cracked teeth, or teeth that have been knocked loose or out completely. A loose or missing filling or crown is a cause for concern too.
How to Respond
Your immediate response could help ease discomfort until we can see your little one for treatment. For a chipped tooth, try to pick up and pieces you can and bring them with you. However, we know this often isn't possible, and repair is still possible without these fragments. Have your child rinse with water, and use cloth or gauze to stem the bleeding. A cold compress or ice pack to the side of the face also helps control swelling.
If a tooth is knocked loose, then rinse with water and keep cloth or gauze on the area to control bleeding. If it is completely free, then pick it up by the crown, never touch the root. Place it in a glass of milk or salt water and bring it with you. If this is impossible, then rinse away any dirt or foreign debris and place it back into your child's socket. Have him or her bite down gently to keep it in place.
If a crown or filling is loose or gone, avoid sugary foods and drinks that are very hot or cold, as the area will be sensitive. For this and all the other situations listed above, your little one can take an over-the-counter pain reliever to ease pain.
Repairing Little Smiles
We have a number of options to offer lifelike care, including custom-made dental crowns and dental bonding, some of which can repair a tooth in only one visit!
Keeping Teeth Safe
To keep little smiles safe, make sure your child wears a mouthguard when playing sports!
Pediatric Dentistry Of Round Rock Offers Emergency Treatment
Pediatric Dentistry Of Round Rock wants to help keep little smiles in our community safe and healthy. To find out more about our same-day emergency dental care, contact your Round Rock, TX, pediatric dentist, Dr. Thames, by calling 512-733-5311.