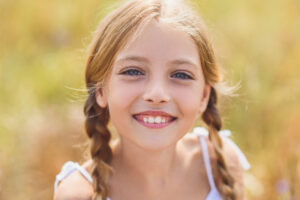 When you think about children's dentistry, you likely don't picture cosmetic treatments. But sometimes oral health issues arise that stain teeth, or could lead to misshapen or damaged ones. In these situations, we can use cosmetic treatment to improve the function and beauty of their teeth. In today's blog, your Round Rock, TX, pediatric dentist talks about cosmetic dentistry.
When Kids Need Cosmetic Treatment
The goal of cosmetic treatment is to improve the appearance of the smile, tackling issues with the color and shape of the teeth. Typically, you see these treatments aimed mainly at adults. But issues can arise in childhood that not only impact the function and health of the smile, but the esthetics as well. When possible, we want to help kids feel proud to smile, and often that involves addressing esthetic issues.
Teeth Whitening
Little smiles can develop severe discoloration due to fluorosis, injury, the use of certain medications, or tooth decay. These stains can appear brown or gray, and make children feel self-conscious about their appearance. Once we treat the underlying oral health issues, we can move forward with procedures to brighten the teeth. We recommend these procedures only once the permanent teeth have all erupted and properly calcified. Treatment could brighten the teeth by several shades in some cases!
Dental Bonding
We could also correct esthetic issues with dental bonding. This treatment can mask permanent teeth stains, treat minor chips and cracks, and add length to worn down teeth too. We've used it to close unsightly gaps between teeth too, and to reshape misshapen teeth. The procedure only takes one visit to complete! To begin, we will gently numb the teeth receiving treatment and then remove any decay. We then clean the teeth and etch the surfaces. A composite resin material is applied in several layers, and shaded to blend with the tooth. This material is metal-free, safe for all ages, and can be color-matched. Once the material is in place, we reshape the tooth and sculpt it as the composite resin cures underneath a special light. Finally, we polish it for a brighter appearance.
Cosmetic Contouring
We could also contour the teeth, a procedure that also only takes one visit to finish. With contouring, we gently sand and buff away outer structure to address minor esthetic issues. For example, we can correct the appearance of very minor chips, and reshape overly large teeth. We dull sharp, pointed, and jagged teeth, and also smooth out pits, grooves, and rough patches in the smile.
Your Round Rock, TX, Pediatric Dentist Provides Cosmetic Treatment
Our team wants to ensure your little one continues to smile with confidence. If you would like to learn more about the treatments we offer to brighten little smiles, then contact your Round Rock, TX, pediatric dentist, Dr. Thames, by calling 512-733-5311.