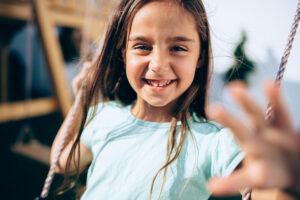 Over time, a variety of oral health issues and hygiene habits (or lack thereof) could lead to dental discoloration in little smiles. In addition to treating the factors behind them, we could also use cosmetic dentistry to help brighten little smiles. In today's blog, your Round Rock, TX, pediatric dentist talks about teeth whitening for children.
How Little Smiles Become Stained
A variety of factors could lead to stains on the teeth. For example, a diet high in sugar and starch promotes plaque buildup and causes discoloration to become visible. Drinks with dark pigments, like soda and tea, could be a factor too. Fluorosis, the use of certain medications, tooth decay, lack of proper brushing and flossing, and an injury to the tooth could also be the source of staining on the teeth. Once these form, brushing and flossing cannot remove them and instead, we may recommend treatment.
When Whitening is Appropriate
To avoid sensitivity and other complications, we don't recommend taking whitening measures until the permanent teeth have erupted and calcified. We also want to make sure any and all orthodontic treatments have been completed as well. To see if treatment is right for your child, we will thoroughly examine the smile and assess the health of your child's smile. We then offer professional treatments designed to break up and remove stains without causing sensitivity.
Dental Bonding
In addition to teeth whitening, we can also mask stains and correct imperfections with a tooth's shape, including damage from injury, with dental bonding. This takes only one visit, and uses the same composite res we employ as part of our lifelike dental fillings. Treatment also only takes one visit too! We have cosmetic treatments and also lifelike restorations, such as fillings and custom dental crowns.
Preventive Actions
To help protect smiles, we suggest making sure they brush and floss daily, as this helps remove food particles and prevent major plaque and tartar buildup. Kids should also cut back on foods and snacks high in sugar and starch, as well as beverages with sugar and dark pigments. Be sure your little one visits us for checkups and cleanings, so we can remove plaque buildup and polish the teeth every six months. If you have any questions about how we whiten or repair teeth, or about other cosmetic improvements, then contact our team today to learn more. We would love to help your children enjoy bright smiles that may then feel confident.
Your Round Rock, TX Pediatric Dentist Offers Cosmetic Dentistry
At Pediatric Dentistry Of Round Rock, we understand the importance of a bright teeth. For more information on our cosmetic treatment options, or to set up an appointment, contact your Round Rock, TX, pediatric dentist, Dr. Thames, by calling 512-733-5311.