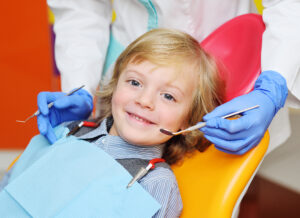 When a tooth develops an infection, then this could mean premature tooth loss and for children, this leads to misalignment and difficulty chewing. To prevent this, we can use a root canal treatment known as a pulpotomy to treat the issue and preserve the smile. In today's blog, your Round Rock, TX, pediatric dentist talks about treating a child's infected teeth.
Dental Infection and Abscess
At the center of every tooth is a collection of living tissues known as the pulp. This controls the flow of nutrients and blood to and from the tooth. This is surrounded by dentin and protected by the outer layer of tooth enamel. An infected tooth means that harmful bacteria and decay has reached the pulp through an untreated cavity or an injury to the tooth. Without treatment, this could cause the tooth to essentially die, an extraction will be necessary to prevent the spread of infection. Losing a tooth prematurely could then upset the eruption of the permanent teeth and cause dental misalignment, requiring braces in the future.
The Pulpotomy Procedure
With a pulpotomy, we have a more conservative approach to root canal therapy, so we can save the tooth and prevent complications for your child's smile. We first gather detailed digital x-rays and intraoral camera images so we can plan the procedure carefully. Next, we administer a local numbing agent and for kids with anxiety, dental sedation. Once your little one is calm and comfortable, the next step will involve gently opening the tooth and removing a portion of the tissues within. We add a medicated filling to the tooth and then cap it with a crown, made from lifelike materials when possible. This helps stop discomfort and protects the tooth!
Protecting Smiles from Infection
To help safeguard your children's smiles in the future, we recommend helping them brush twice a day for two minutes using a fluoride toothpaste. You need a rice-sized amount for kids three and under, pea-sized for kids over three. Be sure your little ones floss every evening. Try to cut back on sugary foods and drinks as these could make decay more likely. Finally, be sure to see us for a checkup and cleaning every six months. If you have any questions about how we treat an infected tooth and bring relief, or how we prevent them, then contact our team today to learn more.
Your Round Rock, TX, Pediatric Dentist Can Remove Infected Tissues
Our team wants to help treat infections in little smiles with a conservative root canal alternative. If you would like to learn more about how we treat issues with the health and comfort of a tooth, then contact your Round Rock, TX, pediatric dentist, Dr. Thames, by calling 512-733-5311.