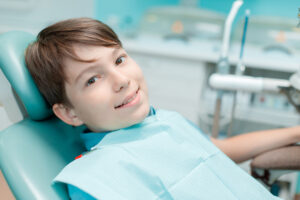 Children are very vulnerable to tooth decay, which could cause toothaches and even infection or premature tooth loss! Which is why your Round Rock, TX, pediatric dentist wants to offer treatments to help prevent the onset of cavities. In today's blog, we're looking at fluoride and dental sealants.
The Importance of Prevention
When cavities form, they not only cause discomfort until treated, but could lead to infection. The infected tooth could then require extraction to prevent the spread of infection to other parts of the smile. Once a tooth is lost early, even if it was destined to eventually fall out, this could increase the risk of dental misalignment and the need for braces in the future! By preventing tooth decay, you not only help your child avoid painful symptoms, but also preserve their smile too.
Fluoride
The outer enamel that coats our teeth prevents cavities from forming. However, poor oral hygiene habits, such as lack of daily brushing and flossing and a diet high in sugar and starch, could weaken enamel and allow tooth decay to form. But with fluoride treatments, we help strengthen the outer enamel. Fluoride is a naturally-occurring mineral, one shown to improve the protective layer of enamel and prevent erosion. We apply a treatment in the form of a special gel during each checkup and cleaning visit. You can also have your children use fluoride toothpaste when they brush. Kids three and younger should use a rice-sized bit, and kids over three should use a pea-sized amount.
Dental Sealants
For many kids, the rear molars are the most difficult to reach when brushing and flossing. As a result, food can become caught between them and stuck there for bacteria to break down, creating plaque buildup and a higher risk of cavities. But with dental sealants, we apply a special acrylic coating to the teeth. This prevents food particles from becoming stuck between the teeth, limiting the risk of cavities. Application only takes a few minutes, and they can stay in place for up to ten years in some cases, wearing away gradually with time.
These preventive treatments, combined with regular checkups and cleanings and brushing and flossing at home, help protect smiles for the onset of cavities and infection. If you have any questions about these visits, or if you would like to schedule a visit for your child, then contact our team today to learn more.
Your Round Rock, TX Pediatric Dentist Helps Stop Tooth Decay
At Pediatric Dentistry Of Round Rock, our team is ready to help children of all ages stay cavity-free. For more information on our approach to preventive dentistry for kids in our community, or to set up an appointment, contact your Round Rock, TX, pediatric dentist, Dr. Thames, by calling 512-733-5311.