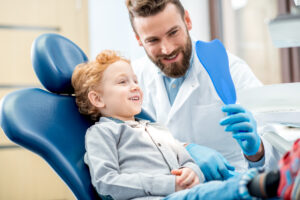 Kids have many lessons to learn through the years, including lessons on proper oral hygiene. For the first few years of their life, you will be the one to care for their teeth and gums by cleaning them each day. Of course, they can also count on the support of their dentist to assist with preventing problems. Even after they start to brush and floss for themselves, they can count on the right preventive services to protect them. Our Round Rock, TX dentist's office is here to help with this. In addition to providing important in-office support, we can help them stay safe against cavities more easily by offering dental sealants!
Does Your Child Have Enough Protection Against Cavities?
As soon as their teeth start to appear, kids have to be protected against cavities. In their earliest years, this support comes directly from parents and their dentist. Even after they reach the point when they can protect their teeth on their own, they can depend on both your support and their dentist's. You can offer guidance on smile care, and you can make sure they limit their consumption of sugar during meals and snacks. Your dentist can help by providing guidance on better oral health habits, and by offering additional support in the form of fluoride treatments and dental sealants.
How Dental Sealants And Fluoride Treatments Offer Extra Support Against Decay
Dental sealants create a welcome extra barrier between a child's enamel and the buildup of bacteria and food particles. When they have been applied, kids are less likely to struggle with dental decay because of that added support. We offer this protection as well as fluoride treatments to lower risks for problems. Fluoride is a mineral that can encourage faster recovery when erosion starts to occur, which makes them less likely to have cavities that require restorative dental work.
More Benefits From Preventive Dental Visits
As your kids grow, their oral structures will develop and go through necessary changes. When kids are regularly seen by a dentist, you can have feedback on that development, which can include early warnings about developmental issues like malocclusion. Regular visits can also provide welcome early guidance on smile care that helps kids become more comfortable with protecting themselves from cavities over time.
Talk To Your Round Rock, TX Dentist About Sealants For Your Child's Smile
Through regular trips to your pediatric dentist, you can help your child grow up with a healthy, confident smile! We can provide added help in the form of fluoride treatments and dental sealants. We can also provide ongoing updates about their growth and development, so you can have timely warnings about developmental issues that might need to be addressed. If you would like to find out more, contact your Round Rock, TX, dentist, Dr. Thames, by calling 512-733-5311.