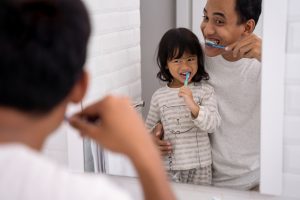 Cavities could occur in smiles of all ages, from babies and toddlers to kids and teens. Which is why your Round Rock, TX, pediatric dentist wants to make sure kids in our community have access to unique preventive treatments that could help small smiles remain free of tooth decay. In today's blog, we're talking about fluoride treatments and dental sealants.
The Causes of Cavities and When to See Us
Tooth decay forms when the outer layer of enamel is no longer able to protect the inner layers of your tooth from exposure to bacteria. Poor oral hygiene could allow plaque to develop and weaken the outer enamel. An injury could damage the enamel and expose the inner dentin. Along with improper brushing and flossing, kids could become at risk due to injury or consuming a diet high in sugar and starch. If your child complains about an aching tooth, or one that hurts when they eat or drink, this could be a sign of a cavity. If your child attends regular checkup and cleaning visits, then we will likely uncover the cavity before your child ever experiences a toothache.
Preventive Care with Fluoride
During each checkup and cleaning visit, we will apply fluoride in a varnish form to the outside of the teeth. The naturally-occurring mineral then helps strengthen the outer enamel, protecting smiles from erosion and tooth decay. You also help by making sure your child uses a rice-sized blot of fluoride toothpaste each time they brush their teeth, and by drinking plenty of water, as fluoride is also in our tap.
Placing Dental Sealants
Even if kids take the time to brush and floss daily, their limited dexterity could mean trouble reaching the rear molars. Food particles then remain trapped between them, which leaves them for bacteria to consume. The process increases oral acidity, coating the smile in plaque, and allows cavities and gingivitis to form. However, we could apply a sealant to the rear teeth! This acrylic layer helps prevent food particles from becoming stuck between the teeth. The sealant doesn't need to be removed, it wears away naturally with time, but could last between 5 and 10 years on average.
If you have any questions about how we help protect your child's smile from the onset of tooth decay, then please contact our team today to learn more. We want to help your little ones enjoy optimal oral health!
Pediatric Dentistry Of Round Rock Discusses Preventive Treatments
Pediatric Dentistry Of Round Rock wants to make sure your kid has a chance to stay free of cavities. To find out more about safeguarding little smiles from tooth decay, then contact your Round Rock, TX, pediatric dentist, Dr. Thames, by calling 512-733-5311.