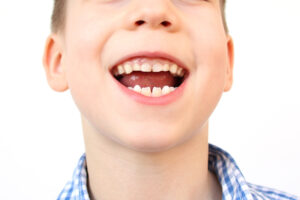 Last week, we discussed a cosmetic procedure known as teeth whitening. But what if your child has issues with the shape of the tooth, issues that could compromise bite balance and lead to other complications? To offer quality treatment in only one visit, your Round Rock, TX, pediatric dentist could recommend dental bonding and contouring.
When Does A Tooth Need Repair?
We may recommend these procedures if a tooth is overly large or misshapen, which could impact how the bite fits together and cause issues eating and speaking. We could also provide these options for misshapen, discolored, or damaged teeth. Repairing damage is really important as this could otherwise lead to the onset of tooth decay and dental infection. If a tooth is damaged, have your child rinse with warm water and use a cloth or gauze to stem the bleeding. A cold compress or ice pack could reduce facial swelling too. You may also give your child an over-the-counter pain reliever to ease discomfort.
The Bonding Process
With dental bonding, we will administer a local anesthetic and then gently clean and etch the surfaces of the tooth. We prepare and place the composite resin material in several layers. This is a metal-free material, the same we use for our fillings, which is safe for kids of all ages. The material is not only durable, but can be shaded to blend with the tooth too. We reshape and sculpt the tooth as the material cures under a light, and then we polish the tooth for a brighter appearance. The entire process only takes one visit.
Contouring a Child's Tooth
We could also contour the tooth too. A contouring procedure doesn't add to the tooth, instead we gently sand and buff the outer structure to remove chips, pits, grooves, or rough patches. We also reshape malformed or overly large teeth, and dull pointed teeth too. Both of these procedures offer repair and restoration in only one visit. If you have any questions about these procedures, then contact our team today to schedule an appointment. A visit now let's us repair the teeth in one visit, before the hectic holiday season begins. You can also use your remaining dental insurance benefits or health saving funds before they expire on December 31st.
Talk To Your Round Rock, TX Pediatric Dentist About Cosmetic Repair
At Pediatric Dentistry Of Round Rock, we're ready to work with your family to promote healthier and stronger smiles for children in our community. If you want to learn more about our treatment options for kids of all ages, then please contact your Round Rock, TX, pediatric dentist, Dr. Thames, by calling 512-733-5311. We want to make sure kids enjoy bright, beautiful, and healthy smiles throughout their childhood.