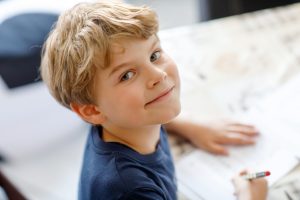 We offer a number of treatments with esthetics in mind, such as tooth-colored fillings and lifelike dental crowns. But what if a child has severely stained teeth? There are a few situations in which teeth whitening is appropriate. On today's blog, your Round Rock, TX, pediatric dentist talks about teeth whitening for little smiles.
When to Seek Cosmetic Treatment
Obviously, treatment is meant for smiles that have developed teeth stains. But for children, other criteria need to be met before teeth whitening is safe for their smiles. For example, we want all permanent teeth to have already erupted and for the enamel on the teeth to be properly calcified. Any and all orthodontic treatments should already be completed as well. Meeting these criteria helps prevent tooth sensitivity and other complications.
Benefits of Teeth Whitening
Professional procedures offer more dramatic results, which could also last longer and reduce the risk to tooth sensitivity when compared to over-the-counter options. We could use the procedure to remove the stains caused by the foods and drinks your little one consumes, as well as the stains related to nerve damage and damaged teeth. We could mask the effects of fluorosis, and correct decay-related discoloration too. Certain medical conditions could also be linked to discolor, and we have a chance to either remove or mask these stains. Our team could also discuss better oral hygiene habits, such as improved snack and drink selections, better brushing and flossing, and regular six-month dental images to help keep smiles bright following treatment.
Dental Bonding
Teeth whitening is used to break up and remove surface stains, also known as extrinsic stains. These are commonly caused by the foods and drinks we consume. However, there are also intrinsic stains. For example, the kind that forms due to injury or excessive fluoride exposure. These stains occur below the outer enamel. If they're severe enough, traditional options may not be able to remove them. However, we could also mask them with dental bonding, Using the same composite resin we use for tooth-colored fillings, we brighten the smile by masking the stains. The same procedure could also close gaps between teeth and correct minor damage or issues with the overall shape of each tooth.
If you have any questions about how we brighten smiles in children, then please contact our team today to learn more. Now is also a great time to schedule their back-to-school visit!
Pediatric Dentistry Of Round Rock Offer Cosmetic Care for Children
Pediatric Dentistry Of Round Rock is ready to help your little ones obtain a brighter and more attractive smile. To find out more about our cosmetic treatment options, then contact your Round Rock, TX, pediatric dentist, Dr. Thames, by calling 512-733-5311.