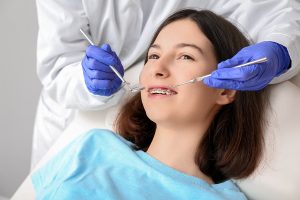 When we think about oral cancer screenings, we usually assume these are only for adults. While rare, kids can still develop this serious health concern, and the earlier professionals catch the disease, the sooner treatment can begin. In today's blog, your Round Rock, TX, pediatric dentist discusses the importance of an annual oral cancer screening for kids.
Common Warning Signs
According to the Oral Cancer Foundation, over 53,000 people will be diagnosed with the disease this year alone. Despite the fact that most will be adults, kids are still at risk. Common warning signs could include trouble swallowing and chewing, or moving the tongue. Red and white splotches in the throat are common, as are lesions and rough patches in the mouth or on the lips that last more than a week. Kids may report chronic pain in the ear and throat. If your child repots these symptoms, or experiences an unexplained weight loss or changes to their voice, then give us a call right away to schedule a screening.
The Screening Process
Oral cancer is known for having a particularly high mortality rate, which is because the disease is rarely caught in the early stages. But with a screening using advanced technology, we can catch the disease early, and increases the chances of a full recovery. Your child should see us every six months for a checkup, and in at least one of these visits our team will administer the screening.
The Importance of Regular Visits
A checkup could actually help kids avoid a number of serious oral health issues, including tooth decay, infection, and gingivitis. We also watch the smile to make sure baby teeth fall out on schedule and that the permanent teeth erupt properly without impaction. If we find an issue of concern, we can create a personalized treatment plan to address the issue and prevent major complications, which could otherwise require more extensive treatment down the road. We also clean the teeth to remove harmful plaque and tartar, a major fact in the onset of teeth and gum issues. If you have any questions about how we examine we smiles in kids of all ages to help them enjoy their best smiles, then contact our team today to learn more.
Pediatric Dentistry Of Round Rock Provides Thorough Exams
Pediatric Dentistry Of Round Rock is ready to provide a safe and comfortable preventive visit for kids of all ages. To find out more about how we examine and protect little smiles, then contact your Round Rock, TX, pediatric dentist, Dr. Thames, by calling 512-733-5311. A visit at least twice a year is very beneficial for kids of all ages, and we look forward to seeing you and your little one!