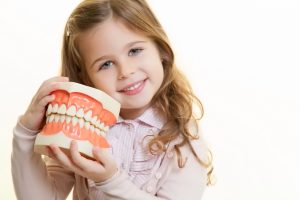 While the chances of children developing are low, this doesn't mean kids don't develop this disease. Which is why your Round Rock, TX, pediatric dentist offers an oral cancer screening as part of your little one's routine checkup visit. In today's blog, we're going to talk a close look at oral cancer screenings.
Dental Checkups for Children
We want to see your little one for a checkup at least once every six months. A checkup is an opportunity for our team to carefully examine your child's smile for the signs of poor oral health, addressing issues before they lead to tooth loss or other major complications. As part of these visits, we will also screen the smile for indicators of oral cancer too. If you have concerns about COVID-19, we understand, and our team is following strict health and safety measures to keep you and your family safe!
Screenings
According to the Oral Cancer Foundation, at least 53,000 people will be diagnosed with oral cancer this year alone. While most will be adults, kids occasionally develop this disease as well. Factors include excessive UV sunlight exposure, or possibly a family history of the disease. The earlier the issue is diagnosed, the more likely a full recovery will be. With advanced technology, we will take a close look at the lips, cheeks, floor of the mouth, and other oral tissues for possible signs of cancerous or precancerous areas. We do so once a year, and if we find any cancerous areas, we can refer your child for a biopsy.
Possible Warning Signs
You should also be aware of the warning signs, in case they develop in between routine checkup visits. Symptoms could include problems swallowing, chewing, or moving the tongue, as well persistent pain in the ear or throat. People also report dry, crusting ulcers on the lips, red and white splotches in the mouth, or sores or lesions that don't heal after two weeks. Changes in the voice, a persistent hoarseness, and sudden unexplained weight loss could also be factors. If one or more of these possible warning signs sounds familiar, then please let us know right away so we can offer a thorough screening with advanced technology. If you have any questions about our checkups, or if you would like to schedule one for your little one, then please contact our team today to learn more.
Pediatric Dentistry of Round Rock Offers Screenings for Oral Cancer  
Pediatric Dentistry of Round Rock is ready to help your family enjoy optimal oral health with care for children of all ages. If you want to learn more about our routine dental checkups and cleanings for kids, then start by contacting the Pediatric Dentistry of Round Rock in Round Rock, TX at 512-733-5311.