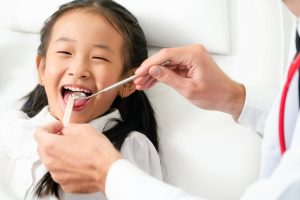 Summer means a chance for your child to relax and break their usual routine. However, this could often mean trouble for little smiles! To help kids enjoy optimal oral health during their break, we have a few tips. In today's blog, your Round Rock, TX, pediatric dentist talks about why kids need a checkup, and how to keep smiles healthy at home.
Summer and Poor Oral Health
During the summer, kids like to play video games, watching TV, and hang out enjoying lots of foods and beverages that are not good for their teeth. Along with the oral hygiene habits we will discuss further, try to encourage your children to eat healthier options, such as yogurt, fresh fruits, veggies, and whole grain crackers or sugar-free gum. Have plenty of water on hand, as even sports drinks could contain harmful acids and sugars. While ice cream and other cold summer treats are delicious, they could increase the risk of cavities. Moderation and healthy choices could help their smiles stay strong and cavity-free!
Checkups and Cleanings
Start the summer with a checkup and cleaning visit. When we examine the smile, our team will take a close look at the teeth and gums, and even the roots and oral structures, with digital x-rays and intraoral cameras. We then identify any developing issues, such as cavities, gingivitis, baby teeth not falling on schedule, or impacted permanent teeth. The exam could also pinpoint the beginnings of dental misalignment, which could need orthodontic treatment. For older kids, we keep an eye on the wisdom teeth. During the same visit, our team will also offer a cleaning. The cleaning helps prevent cavities and gum issues by removing all harmful plaque and tartar from the teeth, all in a matter of minutes! In the same visit, we could provide fluoride treatments to help strengthen the outer tooth enamel.
Better Homecare Habits
Make sure your little ones continue to brush twice a day with a fluoride toothpaste, and floss every evening. These habits help remove food particles and lower the risk of cavities. You could use a timer or song to make sure they clean their teeth for two minutes each session, and maybe brush and floss alongside them to help teach how to do so properly.
If you have any questions about how to keep smiles of all ages healthy and strong, then contact our team today. Let's keep smiles bright and strong all summer long!
Pediatric Dentistry Of Round Rock Offers an Exam
Pediatric Dentistry Of Round Rock wants to help your children avoid issues like tooth decay during the summer break. To find out more about helping your children enjoy optimal oral health, then contact your Round Rock, TX, pediatric dentist, Dr. Thames, by calling 512-733-5311.